SHREVEPORT – Last night, U.S. Senator Bill Cassidy, M.D. (R-LA) spoke with doctors and medical professionals before the Northwest Louisiana Medical Society. He discussed his priorities in Washington to make health care more affordable and accessible for working families.
"Last night, I met with doctors who discussed challenges caring for patients," said Dr. Cassidy. "We also talked about why doctors should be involved."
During the 117th Congress, Cassidy has repeatedly passed into law bi-partisan legislation to improve America's health care system. Last March, he passed into law the Advancing Education on Biosimilars Act and the Ensuring Innovation Act, both of which bring down the price of prescription drugs.
That January, Cassidy's No Surprises Act went into effect. That law ended surprise medical billing, and prevents patients from having to pay out-of-network costs for emergency services, post-emergency stabilization services and non-emergency services provided by an out-of-network provider at an in-network facility. According to a study by America's Health Insurance Plans and Blue Cross Blue Shield, 2 million surprise medical bills were blocked in January and February of 2022, due to the law.
Cassidy has also passed into law legislation to research minority health disparities and prevent burnout, suicide and mental health issues among health care workers. He has reintroduced legislation to re-authorize his Mental Health Reform Act of 2016, improving upon the original bill which bolstered federal mental health and substance abuse programs. Finally, he cleared several healthcare-related bills through the U.S. Senate Health, Education, Labor and Pensions Committee in March, and passed another bill through the committee in June to lower drug costs by encouraging use of generic drugs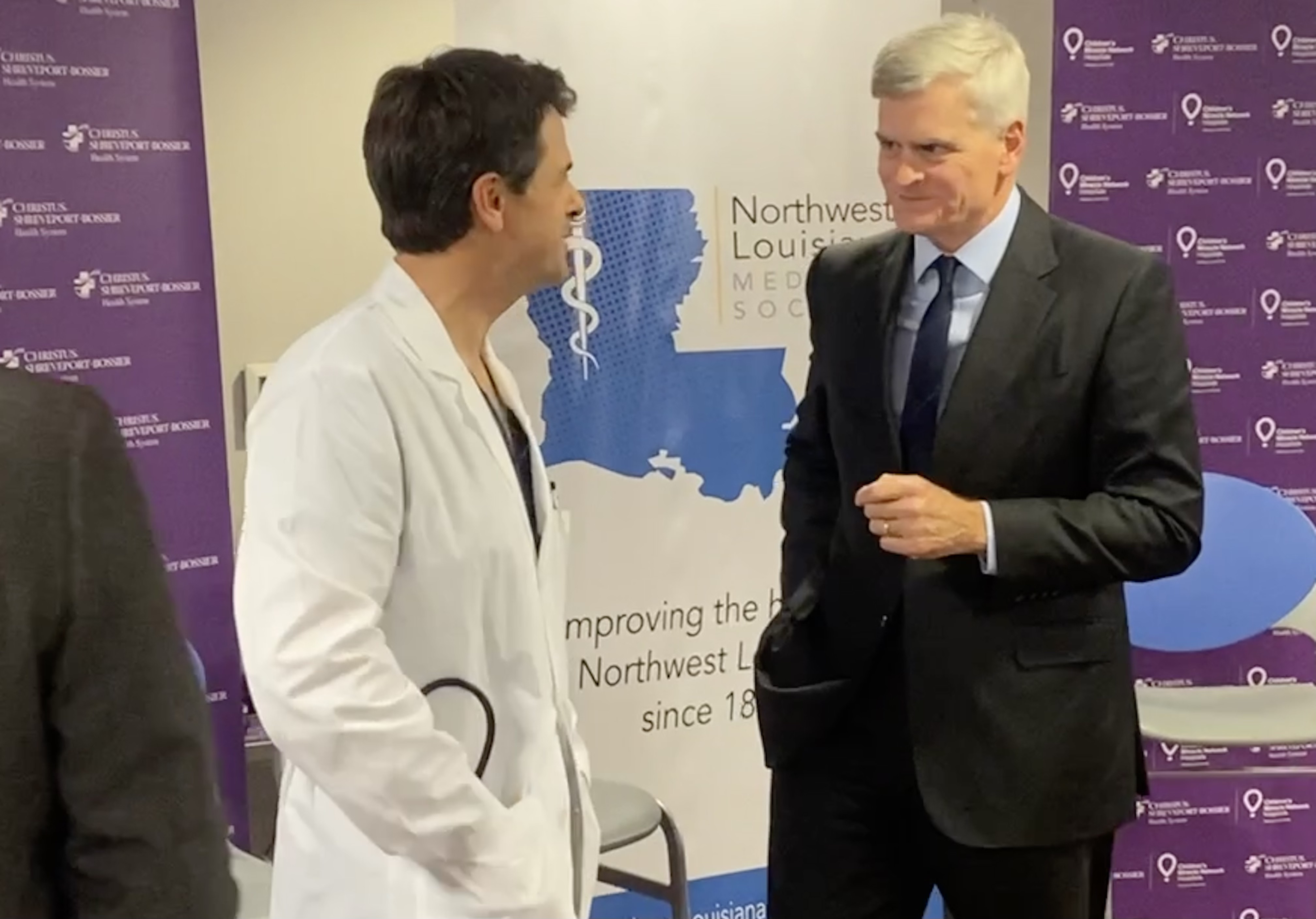 Cassidy was welcomed by Dr. Stephen White, President of the Northwestern Louisiana Medical Society, and Dr. Steen Trawick, CEO of Christus and Speaker of the House for the Louisiana State Medical Society.
"The Northwest Louisiana Medical Society (NLMS) is an organized group of physicians inclusive of all specialties from various practice groups and all hospitals in our area," said Dr. White. "As we treat and care for our patients on a daily basis we can identify what factors affect the health and well-being of our community. It is our obligation to share these first-hand experiences with our legislators and be the best advocates for our patients. Having representation from both federal and state legislators to meet with our group of physicians tonight offers an opportunity like no other to bring about change. We are grateful for U.S. Senator Bill Cassidy's support and the support of our state legislators who joined us tonight – Senator Barrow Peacock and Representative Thomas Pressly.
"CHRISTUS is committed to making a lasting difference in our communities, through excellent patient care as well as collaboration with our community leaders and within the health care industry that earnestly supports efforts leading to better patient education, improved patient outcomes and improved patient access to affordable healthcare," said Dr. Trawick. "The partnership with our legislators is invaluable in these efforts and we are grateful for their support as together we raise the standard of health care in north Louisiana."
###