BATON ROUGE – Today in Gonzales, U.S. Senator Bill Cassidy, M.D. (R-LA) spoke to the Ascension Chamber of Commerce on how his Infrastructure Investment and Jobs Act (IIJA) is benefitting Ascension Parish, and how they can obtain more money from the law.
"No county in the nation is going to benefit as much from the bipartisan infrastructure bill as Ascension Parish," said Dr. Cassidy. "Industry is taking advantage of our energy transition, seeking new markets and creating a lot of jobs for people who live in Ascension and elsewhere in Louisiana."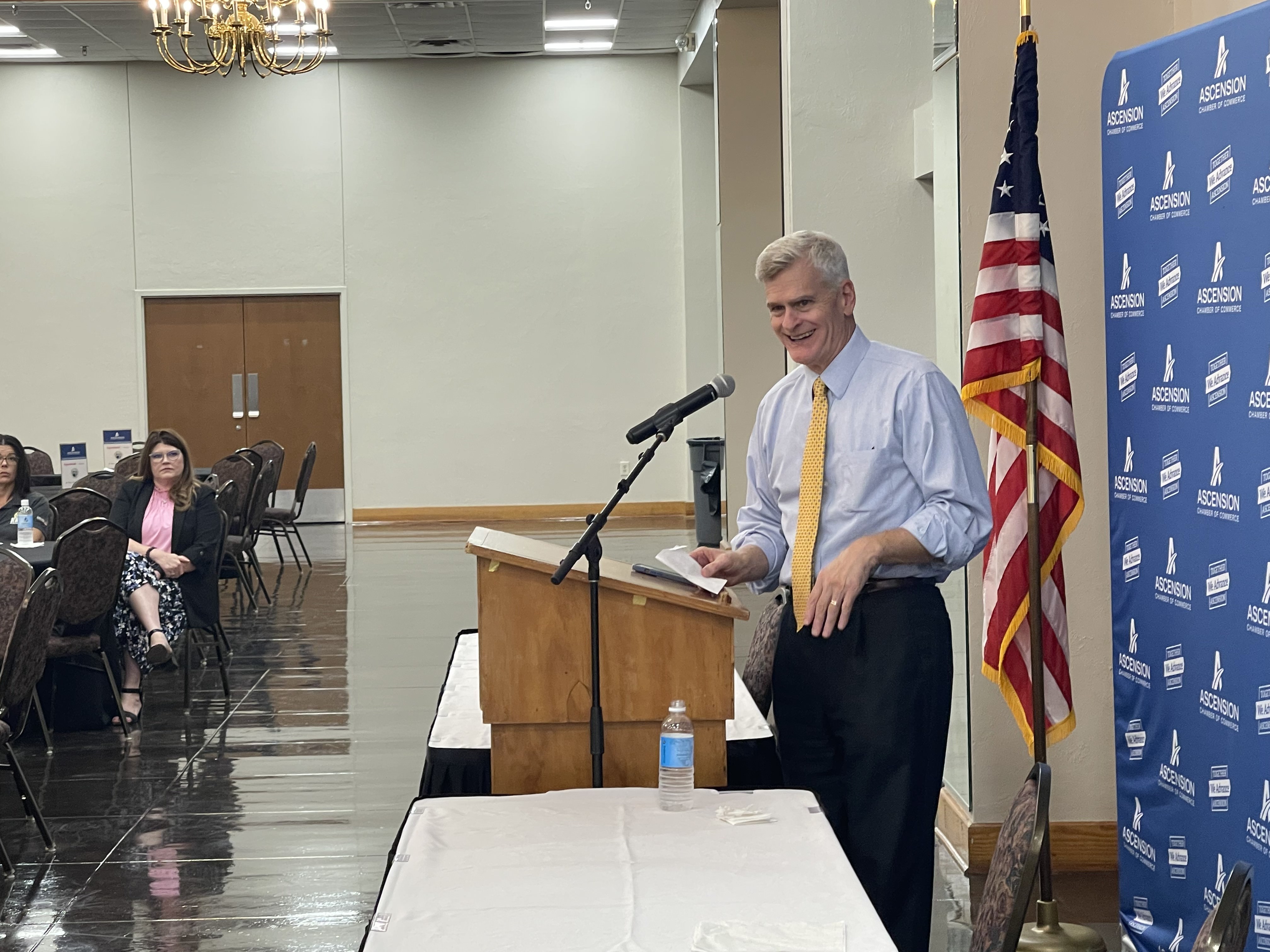 In April, the City of Donaldsonville received $10 million to improve the safety of high-risk, leak-prone natural gas distribution infrastructure. Last August, the City of Gonzales received $20 million to construct the Baton Rouge Train Station and Gonzales Train Station along the planned Baton Rouge-New Orleans (BR-NO) Inter-City Rail. Also last January, Ascension Parish received $2.5 million from the IIJA to strengthen its environmental infrastructure, including improvements to its water tanks and Palo Alto Booster Station. And in late 2021, the Louisiana Regional Airport in Gonzales received $295,000.
The IIJA provides $40 billion for bridges nationwide, with Louisiana receiving at least $1 billion of that total over five years, enough to potentially build a new bridge over the Mississippi River in Baton Rouge. As of April, Louisiana has also received a total of $197 million in IIJA funding for clean water infrastructure, with more expected over the next three years. Finally, the SCALE Act was included in the IIJA, which provides $5.1 billion to advance carbon capture, utilization and storage (CCUS) technology. Major carbon capture projects have been announced throughout the state, including up to $600 million for Project Cypress in Southwest Louisiana, and the energy industry in Ascension Parish could take advantage of the legislation.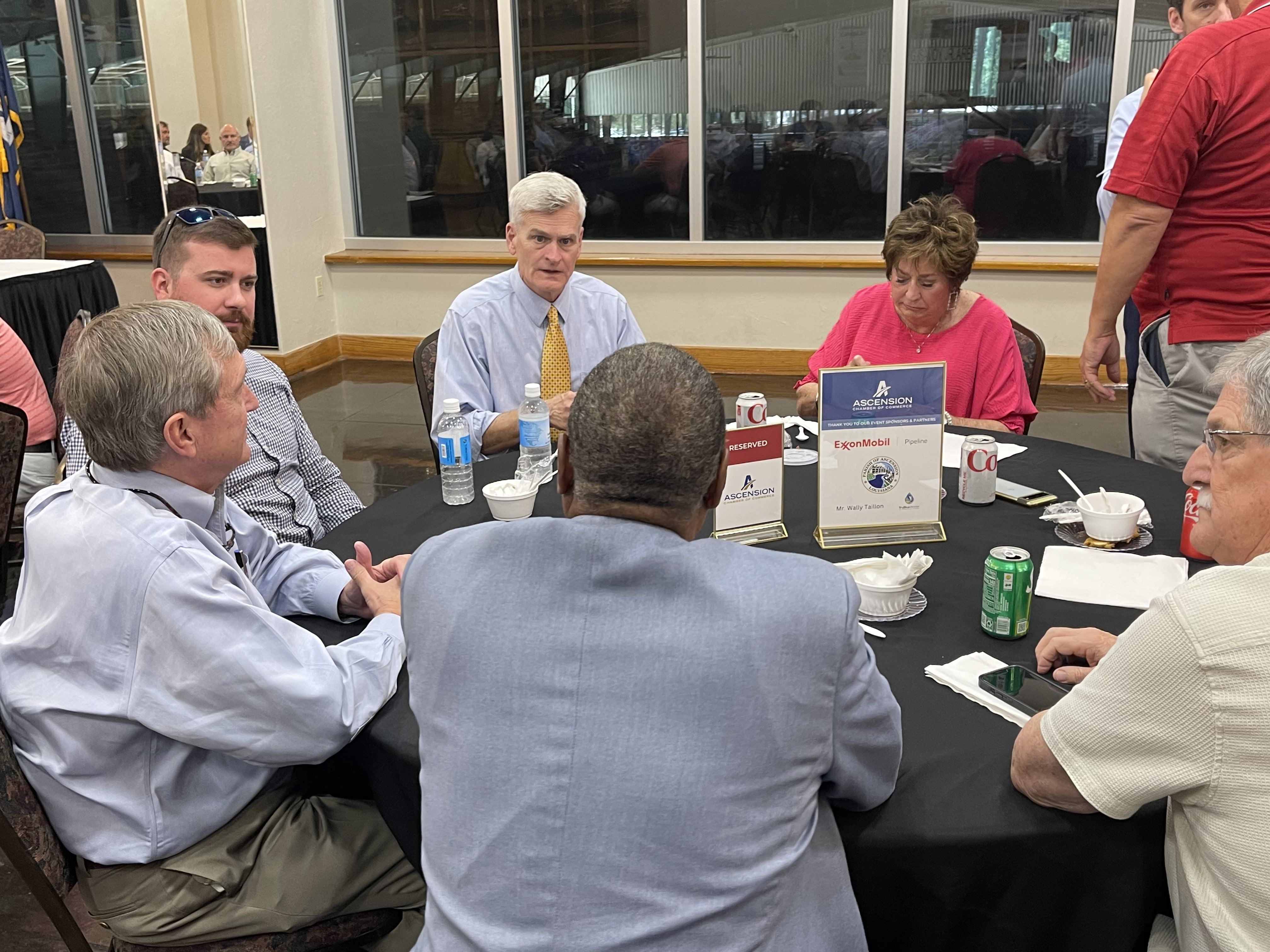 Cassidy also spoke of the need to preserve Social Security benefits for senior citizens while addressing WEP and GPO,  among other issues. He was welcomed by Mr. Robert Burgess, President and CEO of the Ascension Chamber.
"It is always a good day when Louisiana's senior Senator Bill Cassidy pays a visit to Ascension Parish," said Mr. Burgess. "In his report to the Chamber membership, he talked about his role in the two issues most important to a bright economic future for our parish, new energy production projects and infrastructure. Bill Cassidy is a great friend to Ascension Parish!"
Earlier, Cassidy toured Emery Equipment, a family-owned and operated dealership which provides and repairs vehicles and equipment for use in the construction, landscape and forestry industries. They are an authorized Bobcat dealer and also carry machinery from Bandit, Felling, Belshe and Vail.
"Met with Kelly Emery, who has a great team that sells and services construction equipment," said Dr. Cassidy. "Their equipment will be used to help build the roads, bridges and levees funded by the infrastructure bill. And in the process, they'll provide for their families and help our state prosper."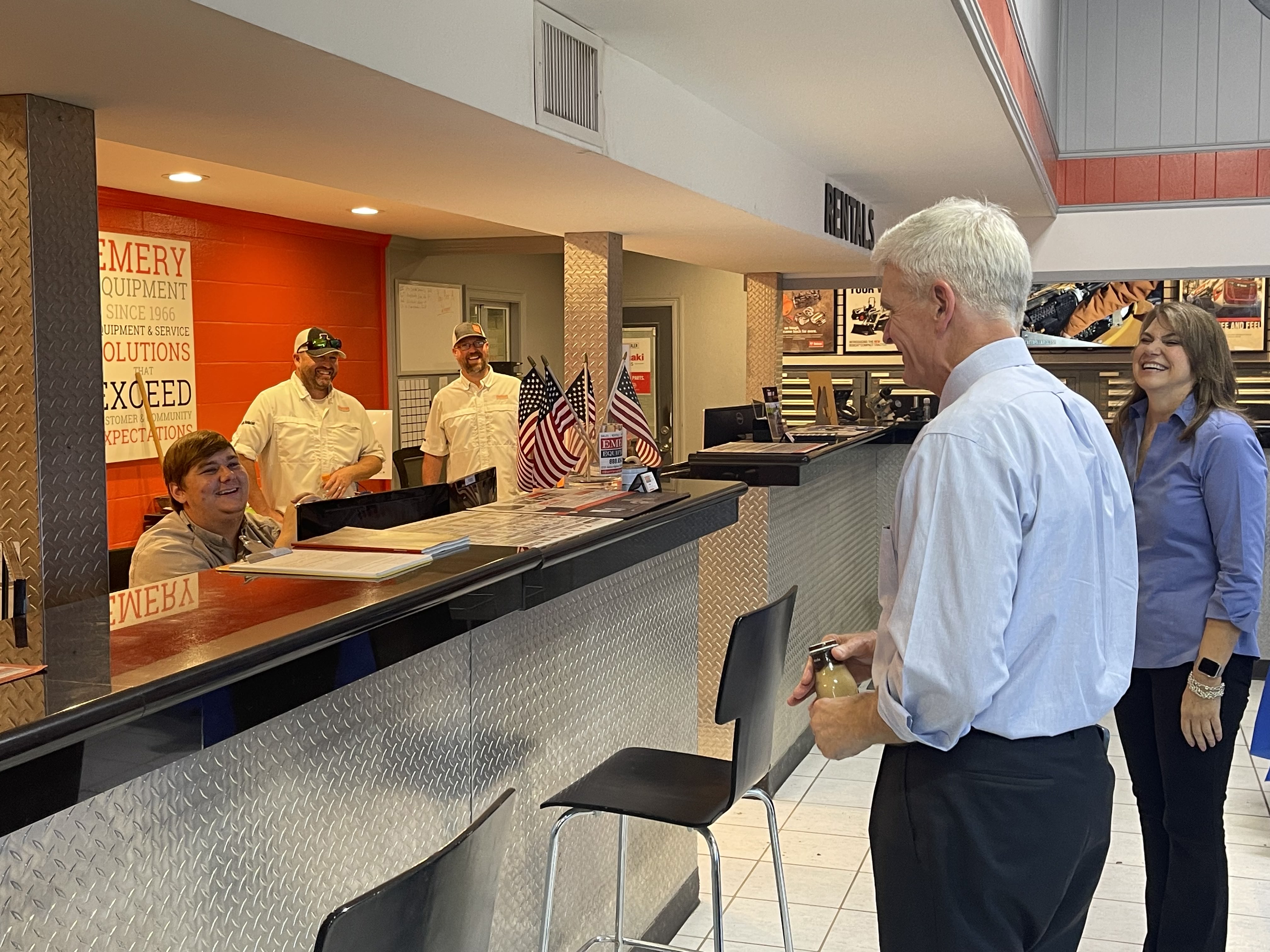 Emery Equipment has been in operation since 1966 and employs 25 people. Their President is Ms. Kelly Emery, who welcomed Cassidy to her business.
"It's an honor to have Senator Cassidy visit and tour Emery Equipment," said Ms. Emery. "Senator Cassidy is a leader in Washington, DC on issues important to my company and the broader equipment industry. The bipartisan infrastructure law, which Senator Cassidy played a pivotal role in enacting, is immensely beneficial to my company, southern Louisiana, and the entire state. Thank you for visiting Emery Equipment and for putting the people of Louisiana and good policy above partisan politics."
###