LAFAYETTE – Today, U.S. Senator Bill Cassidy, M.D. (R-LA) met with state legislators, mayors and parish officials for Vermilion Parish to discuss the benefits of his Infrastructure Investment and Jobs Act, and how it can help Vermilion Parish. He discussed the money that will be available for coastal resiliency, broadband, and roads, bridges and ports.
"Local Vermillion Parish officials and I met regarding how to build safer and more secure communities," said Dr. Cassidy. "A lot of this will be achieved by taking full advantage of the Bipartisan Infrastructure Bill. We are working together to make sure this happens."
Vermilion Parish is already benefitting from the IIJA. Recently, $46 million will be spent to elevate approximately 200 structures in Vermilion, Calcasieu and Cameron Parishes to the 100-year flood plain. The allocation will help prevent those buildings from being flooded. Additionally last December, $159,000 was granted to the Abbeville Chris Crusta Memorial Airport.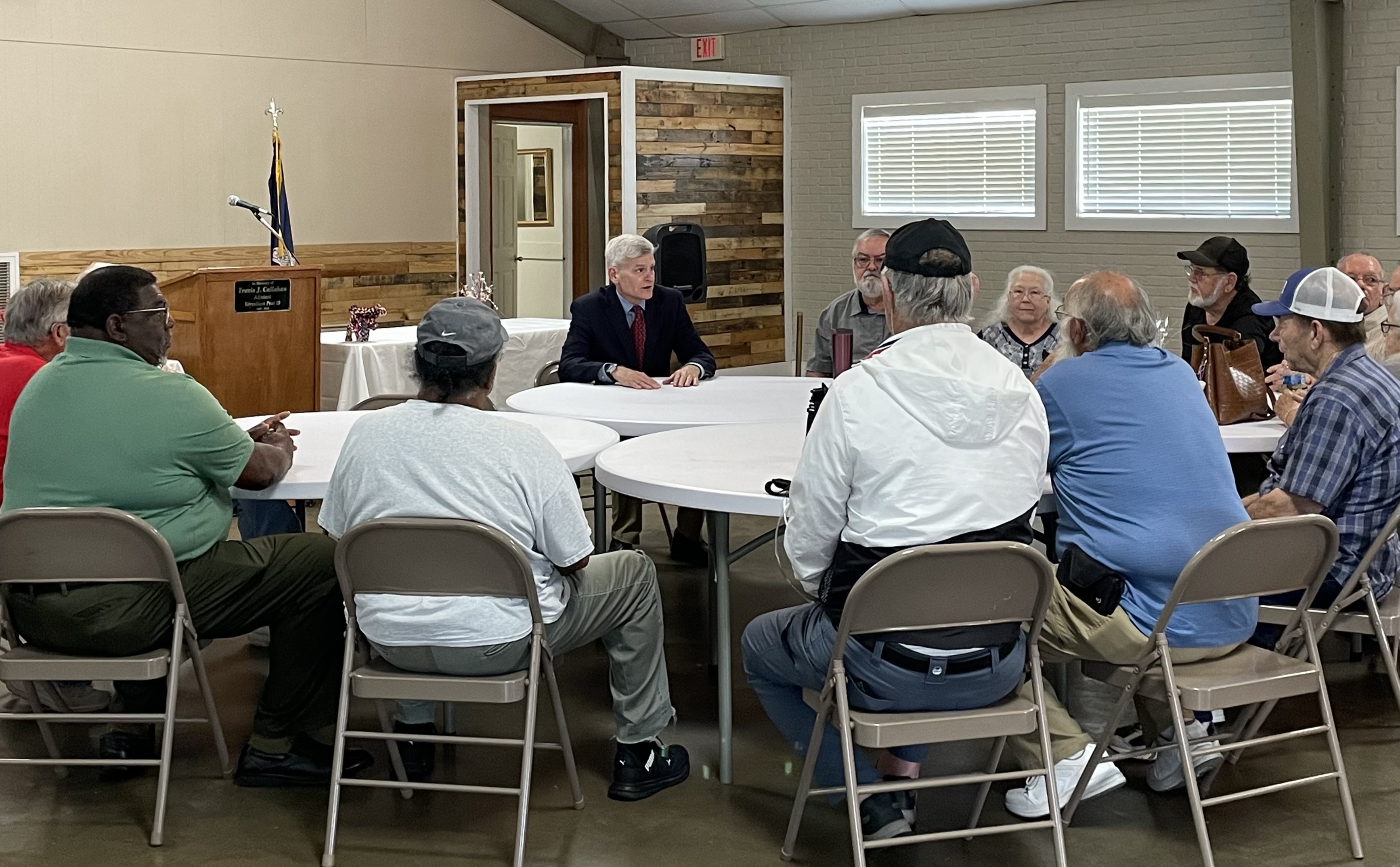 The meeting of parish officials was hosted by Mr. "Jay" Campbell, Executive Director of the Abbeville Harbor and Terminal District.
"We greatly appreciate Senator Cassidy meeting with us today to discuss the Infrastructure Bill and Hurricane Protection for Vermilion Parish. It will also help us to understand how the money gets from the State to the local governments," said Mr. Campbell.
Earlier, Cassidy visited Post 29 of the American Legion in Abbeville, where he discussed accessing health care for veterans, and the disability claims process for the U.S. Department of Veterans' Affairs. Cassidy pledged his support to continue supporting them and other veterans.
"The Vermillion VFW post was founded in 1919, just after the First World War. THese members are the latest among those who defended our country," said Dr. Cassidy. "I will do whatever I can do to help these veterans obtain the benefits there are promised."
Cassidy recently passed into law the Solid Start Act, which requires the VA to contact veterans three times within their first year of separation from the military, to tell them about the benefits available to them. Earlier this year, he also passed into law bipartisan legislation to ensure quality podiatry care is offered by the VA. Finally, he supported the PACT Act, which was signed into law.
Charles Dill, commander of the American Legion post, thanked Cassidy for his visit.
"We appreciate Senator Cassidy coming to Abbeville to visit with our veterans. The American Legion is committed to helping veterans get the benefits and healthcare they deserve, including in our community. Senator Cassidy has worked to make that happen," said Commander Dill.
###