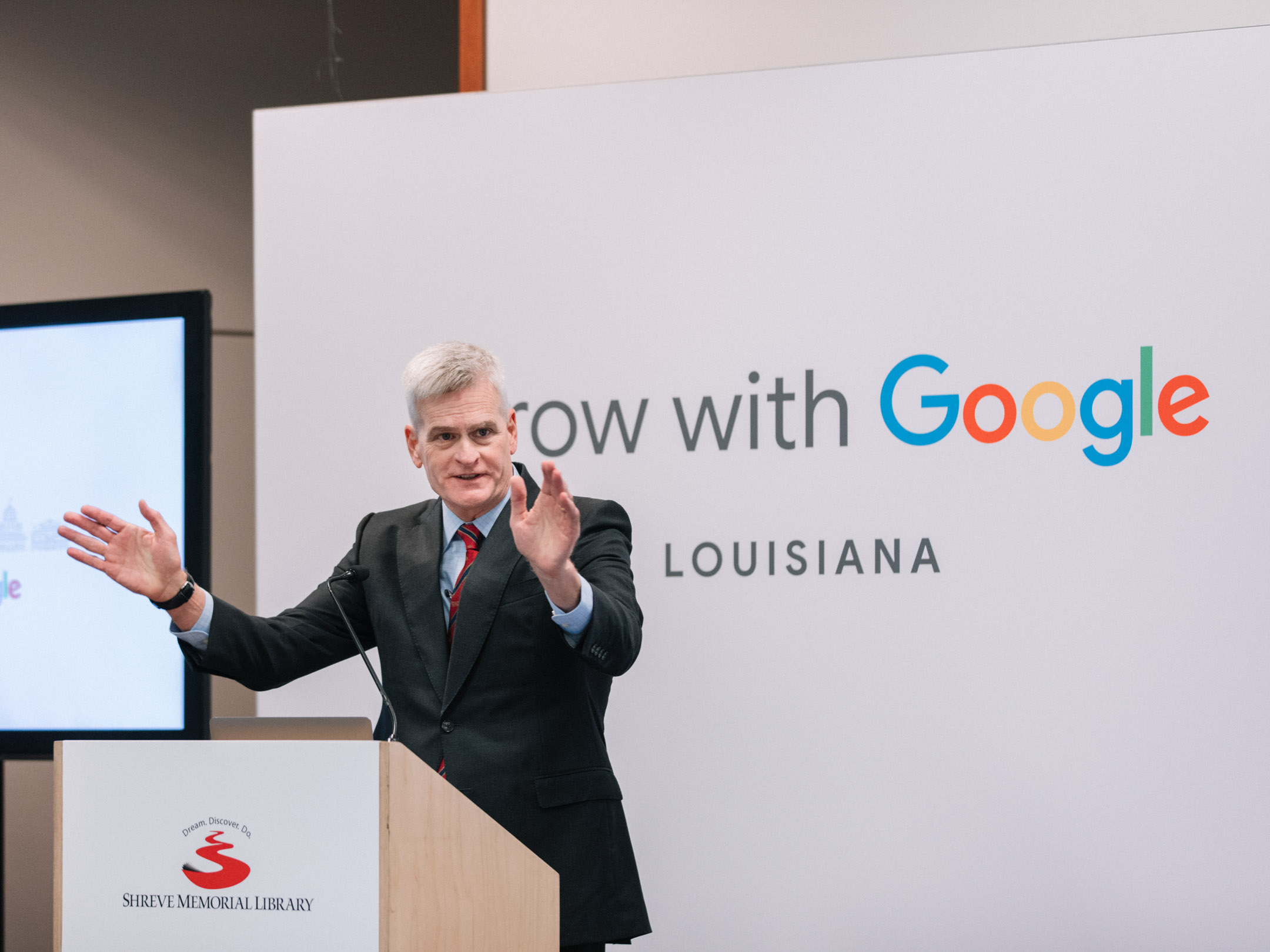 WASHINGTON–U.S. Senator Bill Cassidy, M.D. (R-LA) cohosted and spoke at the 'Grow with Google' workshop at Shreve Memorial Library in Shreveport on Monday. The workshop provided onsite instruction to local small businesses, jobseekers and nonprofit leaders on digital skills necessary to be competitive in today's online business environment. Grow with Google is the tech company's initiative program to help create economic opportunities for people across America.
"Small businesses in Louisiana are crucial to our local economies," said Dr. Cassidy. "Google is providing critical online services to help small businesses compete, grow and succeed."
Google worked with Shreveport organizations to attract attendees for a full day of workshops sharing how local businesses and residents can use free Google tools and resources to find the jobs they want, advance their careers and grow their businesses.
On October 14, libraries in Louisiana will be able to apply for funds to kickstart their own digital skills programming. Last year, Grow with Google committed $1 million in microgrants to libraries across the country, through their partnership with the American Library Association.
"We're excited to have helped Shreveport residents learn new skills through in person 'Grow with Google' workshops that bring to life some of the professional skills that are critical in today's digital economy. To extend the impact of today's event, we also trained representatives from libraries, schools, and nonprofits across the region so that they can share these free resources with their communities going forward," said Andrew Dunckelman, Grow with Google Spokesman.
"Shreve Memorial Library's focus on digital literacy, partnerships and workforce development found a perfect match with Grow with Google. We experienced an exciting day filled with energy and information," said John Tuggle, Executive Director for Shreve Memorial Library. "This partnership with Google will allow us to develop even more high quality programs and services to meet the needs of our patrons and the broader community."
In their 2018 Economic Impact Report, Google announced that ?9,100 businesses in Louisiana organizations in the state generated $862 million in economic activity by using Google's search and advertising tools.
###