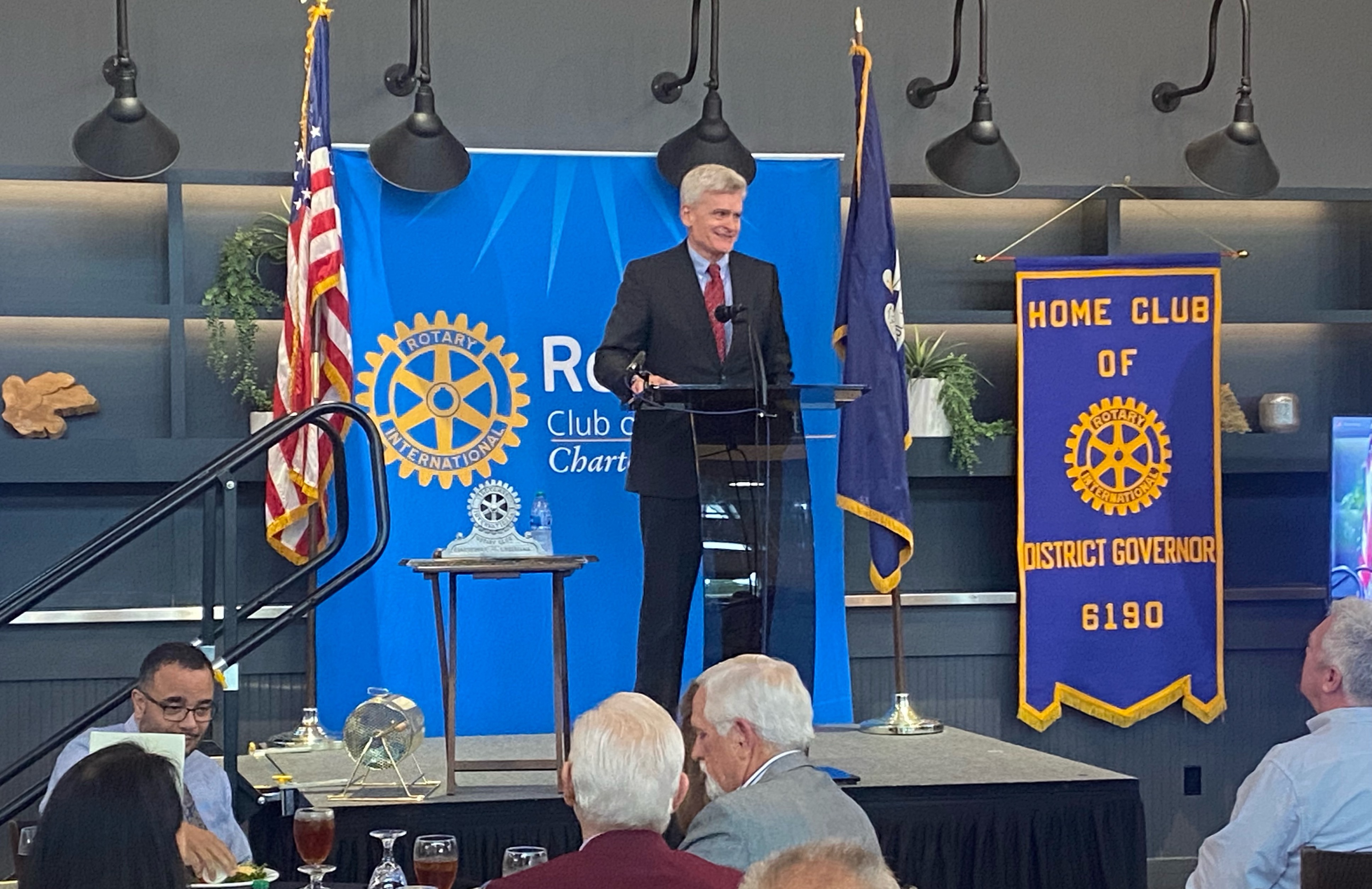 SHREVEPORT – Today, U.S. Senator Bill Cassidy, M.D. (R-LA) spoke to the Rotary Club of Shreveport on what he's doing to improve Northwest Louisiana.
Specifically, he highlighted his Infrastructure Investment and Jobs Act (IIJA), which already is benefitting Shreveport and Northwest Louisiana. In January, it was announced that money from the IIJA would go toward replacing the Jimmie Davis Bridge. Last December, it was also announced that the Shreveport Regional Airport would receive an extra $2.79 million for airport improvements. Thanks to increases in highway formula funding and rail funding, the IIJA increases the likelihood that the I-49 Inner City Connector and North Louisiana Passenger Rail Service will be built.
"The replacement of the Jimmie Davis Bridge and improvements to the Shreveport Regional Airport are just the beginning of what's to come for Northwest Louisiana, thanks to the bipartisan infrastructure bill," said Dr. Cassidy."Thanks to local and federal leadership, we are making concrete improvements in this community."
Additionally, Cassidy discussed his opposition to the president's energy policies, and his desire to boost oil and gas exploration in the United States. He also called for better border security.
Cassidy was welcomed to the Rotary Club by club President Lawrence Calhoun.
"We thank Senator Cassidy for his informative presentation today about the Federal infrastructure bill and the benefits it will bring to our area," said Mr. Calhoun. "We also thank him for the important part he played in crafting that legislation. We are impressed with him and grateful for the work he does as our senior Senator."
Beforehand, Cassidy visited Praeses, a software development company which serves government and commercial customers via software engineering. It's government programs division contributes to our nation's defense by providing essential information to war-fighters and decision-makers in their missions. Praeses is capable of full-spectrum, integrated C2 solutions and AI-driven analysis automation.
"Praeses is working to make our military more efficient and effective," said Dr. Cassidy. "They also create high-paying jobs in Shreveport. This is exactly the kind of company we need to embrace."
Cassidy was greeted by Mr. Frank Auer, General Manager of Praeses.
"Praeses appreciates Senator Cassidy's continued support of Barksdale Air Force Base and its critical mission in protecting our country," said Mr. Auer. "We look forward to continuing our work with the United States Air Force and Senator Cassidy to grow this vital component of our state's economy and our nation's defense."
###