SHREVEPORT – Today, U.S. Senator Bill Cassidy, M.D. (R-LA) met high school seniors participating in the Louisiana Boys State Conference. He talked with them about leadership, participating in the democratic process and getting involved with their communities.
"These young men were selected for Boys State precisely because of their leadership abilities," said Dr. Cassidy. "They are the future leaders of our state and nation, and for us to move forward, they need to realize their potential. Boys State helps give them the tools and confidence to do that."
After his prepared remarks, Cassidy took questions from students. During the conference, these students will participate in a simulation where they run cities, parishes and ultimately a state government, passing laws and managing their communities. Students will run for office and learn what it takes to mount a political campaign and ethically run a state.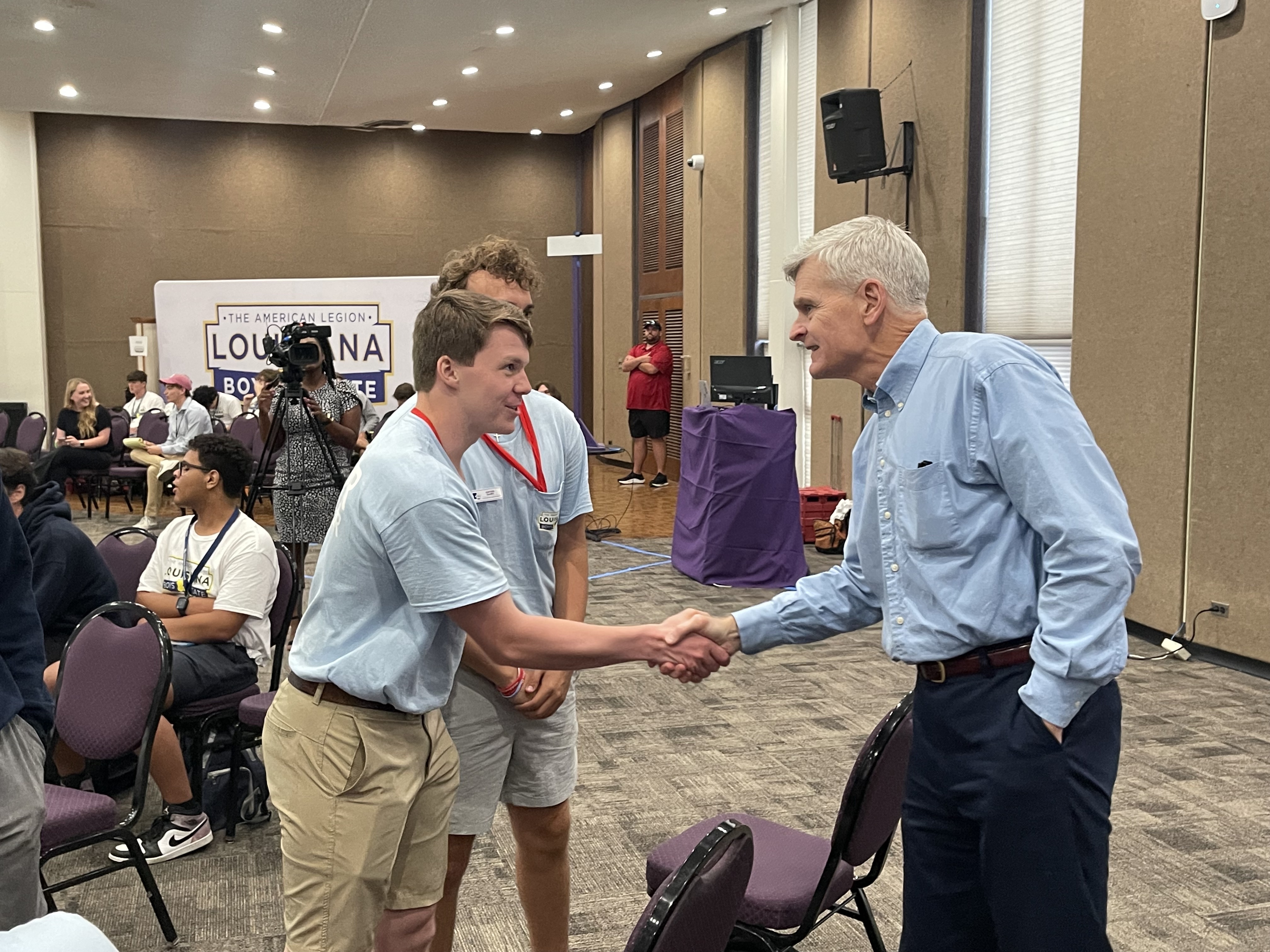 Cassidy was welcomed by Mrs. Tina Cielatka, Chair of the Boys State Commission for the Louisiana Department of the American Legion.
"The American Legion has sponsored Louisiana Boys State since 1940 with the goal of teaching young men about government, developing them as leaders, and promoting active citizenship in American democracy," said Ms. Cielatka. "Senator Cassidy joins a long list of notable presenters who students have heard from over the years, and we were so glad to have him join us this year as our keynote speaker. His words on leadership and involvement in government provide great insight for our students as they move from high school into being civically engaged young adults."
Earlier, Cassidy met with Mr. Derrick Johnson, the Mayor of Cheneyville, and got a tour of the town. They also discussed Cassidy's Infrastructure Investment and Jobs Act (IIJA), and how small, rural communities can benefit from the law.
"Cheneyville Mayor Derrick Jackson is committed to his town," said Dr. Cassidy. "The Infrastructure Investment and Jobs Act provides help with sewage and broadband to which every community can apply. It is Louisiana's chance to grow."
Mayor Johnson welcomed Cassidy to Cheneyville and thanked him for his support.
"We appreciate Senator Cassidy for taking time out of his schedule to visit Cheneyville. We toured Cheneyville as I showed him some of the challenges not only Cheneyville has but rural Louisiana," said Mayor Johnson. "We discussed how to best tackle these issues, especially infrastructure pertaining to water, sewer, and economic development."
Already, central Louisiana has benefitted from the IIJA. As part of the bill, the I-14 corridor was authorized. It will run from Georgia to Texas, with stops in Leesville and Alexandria. This will bring commuters in need of food and lodging through the heart of the state. Additionally, money for bridges and natural gas distribution systems in Rapides Parish has been announced, as well as for improvements to the Alexandria International Airport.
Cassidy has also helped communities in central Louisiana recover from Hurricane Laura. In September of 2021, Cassidy secured supplemental disaster assistance to aid victims of hurricanes and severe winter storms in Louisiana from 2020 and 2021. Money has been allocated to state and local agencies to aid recovery.
###