SHREVEPORT – Today, U.S. Senator Bill Cassidy, M.D. (R-LA) met individually with the new mayors of Shreveport and Minden, Tom Arceneaux and Nick Cox. He discussed plans to improve infrastructure, reduce crime and create jobs in their communities.
"I was honored to be among the first official visitors of Mayor Arceneaux and Mayor Cox," said Dr. Cassidy. "We spoke about how the bipartisan infrastructure bill can help meet the needs of their communities, including improved sewer and water systems, and high-speed internet."
Both mayors were appreciative of Senator Cassidy's time and interest in these plans for their communities.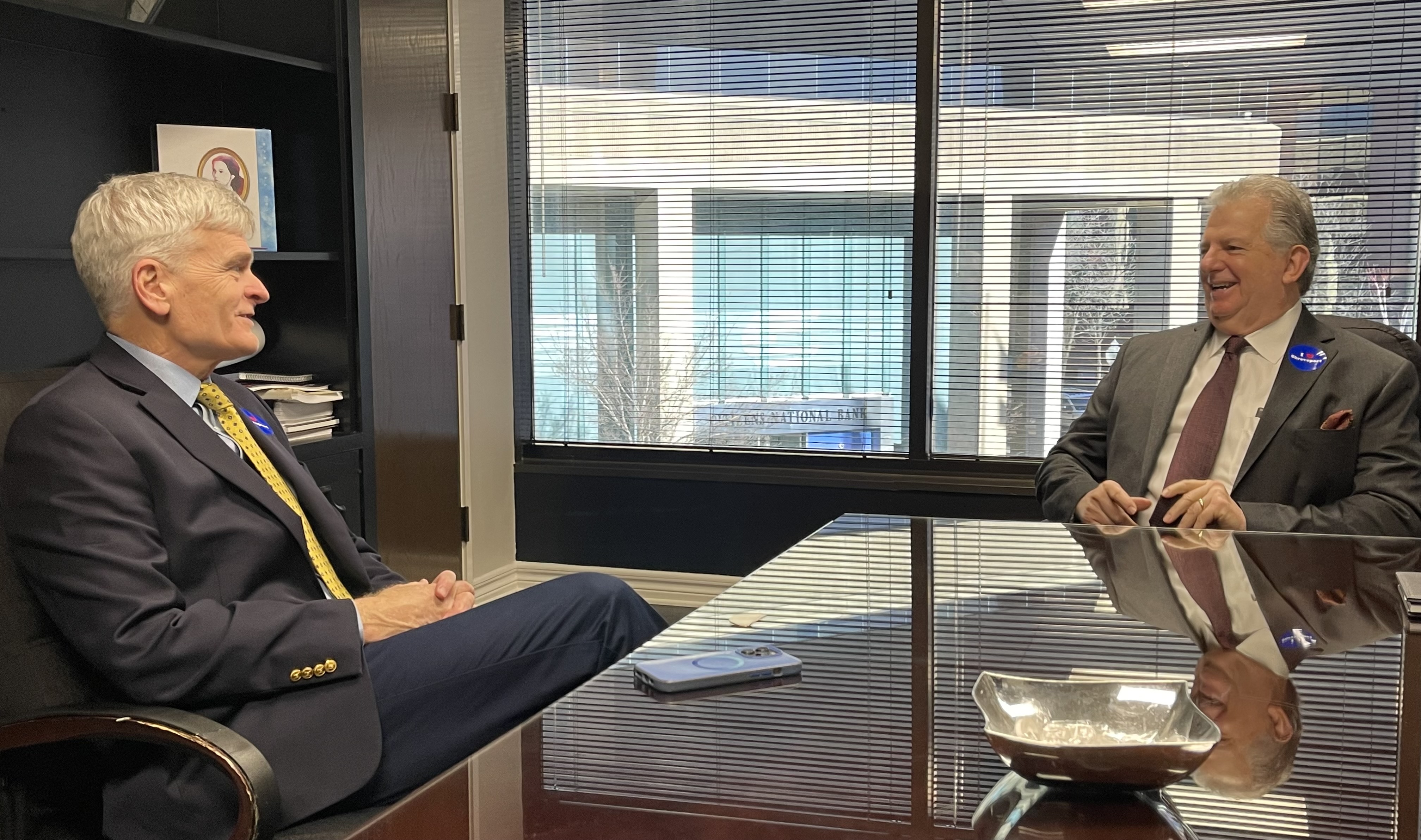 "I was honored Senator Cassidy would take time to come and visit with me on my second business day as Mayor of Shreveport. My team and I hit the ground running, evaluating, and outlining concerns/project that needed out immediate attention. While I have many concerns, Senator Cassidy and I discussed several areas where we could use his help, including with water system infrastructure improvements, passenger train service, flood control and the I-49 connector. I look forward to working with Senator Cassidy and his staff and continuing our dialogue on the hopes and dreams for our great City," said Mayor Arceneaux.
"It was an honor to meet with Senator Cassidy this morning. We talked about using federal funds to improve our water system, make electricity more affordable, and connect our city and parish with high-speed Internet. We share a goal of making Minden better for our citizens. I look forward to working with Senator Cassidy on that goal," said Mayor Cox.
Money from Senator Cassidy's Bipartisan Infrastructure Law, passed into law in August 2021, has already been used to improve Northwest Louisiana's roads and airports. A RAISE grant of $22 million was awarded last August to improve the approximately 1.6 mile health care corridor that spans Kings Highway from I-20 to I-49. The corridor will benefit from reconstructed roadways, pull-outs for transit buses, and improved street-lights and pedestrian facilities. Additionally, over $2.7 million was granted to the Shreveport Regional Airport last month, along with $295,000 for the Shreveport Downtown Airport and $159,000 for the Minden Airport.
Cassidy also spoke at a stakeholder meeting last November in Monroe to discuss building an Amtrak route connecting cities in North Louisiana with Atlanta and Dallas. That meeting included representatives from Amtrak and the Federal Railroad Administration, as well as officials from Louisiana, Mississippi, and Texas. Additionally, billions of dollars are available through the infrastructure law to help communities with public water system projects.
###