BATON ROUGE – Today, U.S. Senator Bill Cassidy, M.D. (R-LA) met with a group of veterans from the Department of Louisiana for Disabled American Veterans to discuss how to improve VA services for veterans, caregivers, and the homeless. Cassidy invited members of DAV to share their experiences with the VA.
"Met with Disabled American Veterans today, on issues related to women's health and the VA in general," said Dr. Cassidy. "Our nation owes a debt to these brave men and women, and the VA is part of the payment of that debt."
Recently, Cassidy passed into law the Solid Start Act, which will require the VA to connect with veterans at least three times during their first year of separation from service. This was a Trump-era program made permanent by the bill. Since the program's inception, the VA has reached over 150,000 veterans.
Cassidy is also an original sponsor of the Guaranteeing Healthcare Access to Personnel Who Served (GAHPS) Act. This legislation ensures that veterans have streamlined access to care, especially in rural areas.
The group from DAV consisted of state officers and veterans in DAV chapters in the Baton Rouge metropolitan areas. The group was led by Mr. Paul Hermann, State Department Adjutant for Disabled American Veterans.
"We would like to thank Senator Cassidy for meeting with us," said Mr. Hermann. "We discussed the following issues: Veterans Health Care, Women Veterans Issues, Homeless Veterans Programs, and Care Givers Program. We appreciate the time that he spent with us and his interest in Veterans issues."
Later, Cassidy attended a grand opening celebration for Jefferson Terrace Academy, which was completed in 2020 (the celebration was delayed due to Covid-19.) Cassidy presented a flag flown over the U.S. Capitol Building to the school.
"This new school building is an investment in our children," said Dr. Cassidy. "For them to realize their potential is important for them. It is also important for all of us. Congratulations for all those who made this possible."
The new building stretches over 20 acres, and can serve about 900 PK-8th grade students. It offers state-of-the-art STEAM labs, a media center, and new athletic facilities.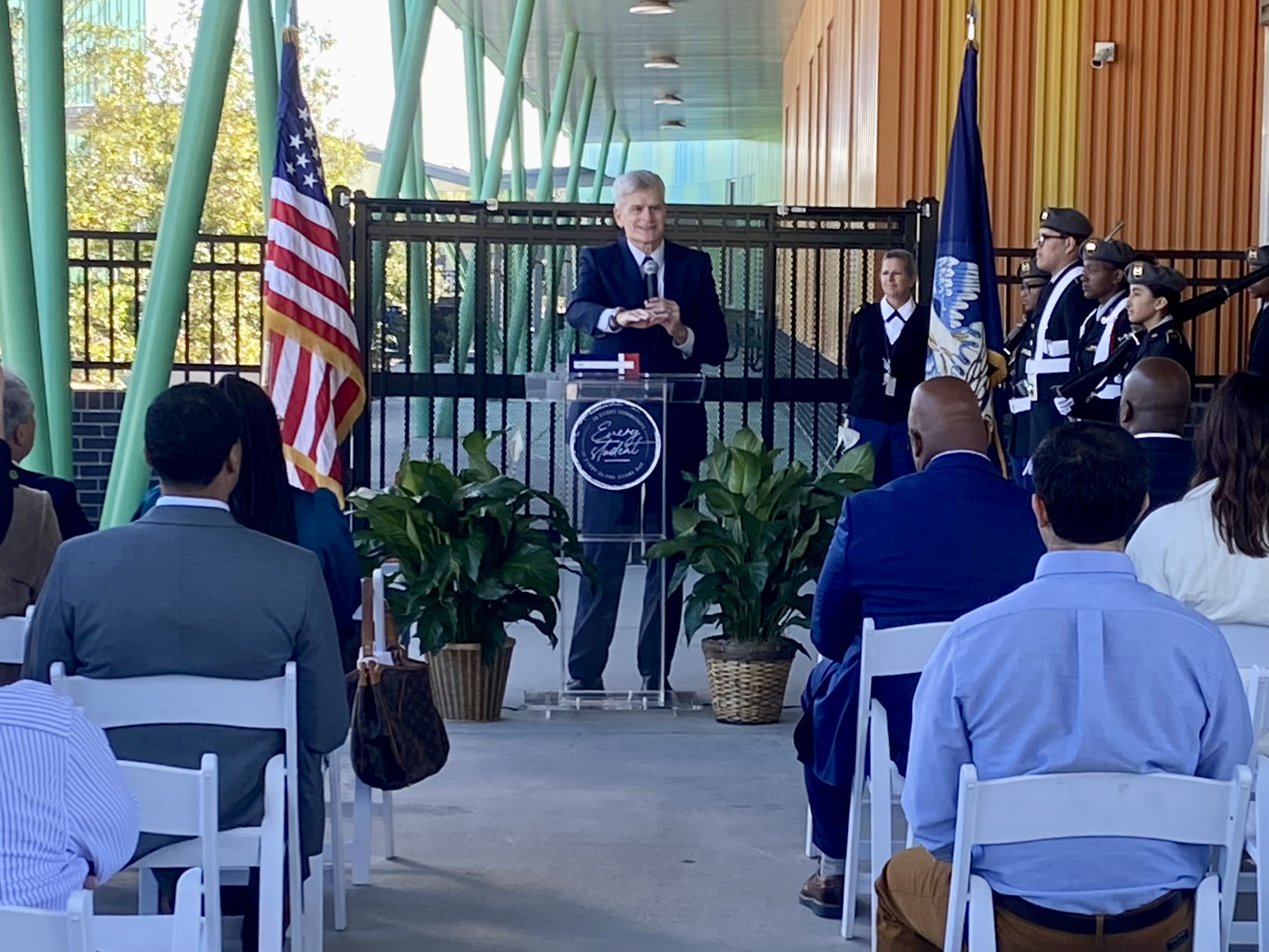 Cassidy was joined by East Baton Rouge Parish School System Superintendent Sito Narcisse, Ed.D.
"I was so honored to learn that Senator Cassidy was making time in his schedule to join us for this special ceremony, and his offer to personally deliver and dedicate an American Flag from the U.S. Capitol is such a special gesture to our community," said Superintendent Narcisse. "It will be proudly and prominently displayed in the new Jefferson Terrace Academy for all visitors to appreciate."
###