WASHINGTON – Today in Alexandria, U.S. Senator Bill Cassidy, M.D. (R-LA) formally opened his new regional office in Alexandria. He later spoke to the Central Louisiana Regional Chamber of Commerce, where he discussed the benefits of his Infrastructure Investment and Jobs Act (IIJA) for the region. 
"Alexandria is benefitting from the Infrastructure Investment and Jobs Act addressing issues here and now and building an economy for 2050," said Dr. Cassidy. "We will continue to partner with business and civic leaders in Central Louisiana to expand their economy and to keep and attract young people."
Just this year, Cassidy announced that the City of Alexandria will receive $500,000 for a brownfields assessment grant to conduct environmental site assessments for the area around Bolton Avenue, Lee Street and Arial Drive. In April, Cassidy announced the Department of Transportation granted over $3.3 million to Alexandria to make high-risk, leak-prone natural gas distribution infrastructure safer. Finally, in May, Cassidy announced that the FAA would grant the Alexandria International Airport $700,000 to improve, modify and rehabilitate a sponsor-owned tower. 
Additionally, Cassidy hosted a Rural Community Funding Summit in April, to connect leaders in the region to grant opportunities in the IIJA. He also secured over $13 million for Fort Johnson and $4.4 million for Camp Beauregard in the Fiscal Year 2024 National Defense Authorization Act, for improvements at those bases. 
Cassidy's new Alexandria office is based at the England Economic and Industrial Development District, which is run by Executive Director Ralph Hennessy. He was also welcomed to the Central Louisiana Chamber luncheon by Ms. Deborah Randolph, President of the group. 
"Senator Cassidy has always supported us and our mission here in Central Louisiana and we are pleased that he has decided to locate his regional office here at the England Airpark," said Mr. Hennessy. "We look forward to continuing to work with the Senator and his staff."
"Senator Cassidy has been a tireless advocate for Central Louisiana, and his bipartisan infrastructure bill is already yielding benefits for our state and our community," said Ms. Randolph. "We enjoyed the opportunity to discuss with him how to continue making our region safer and more prosperous."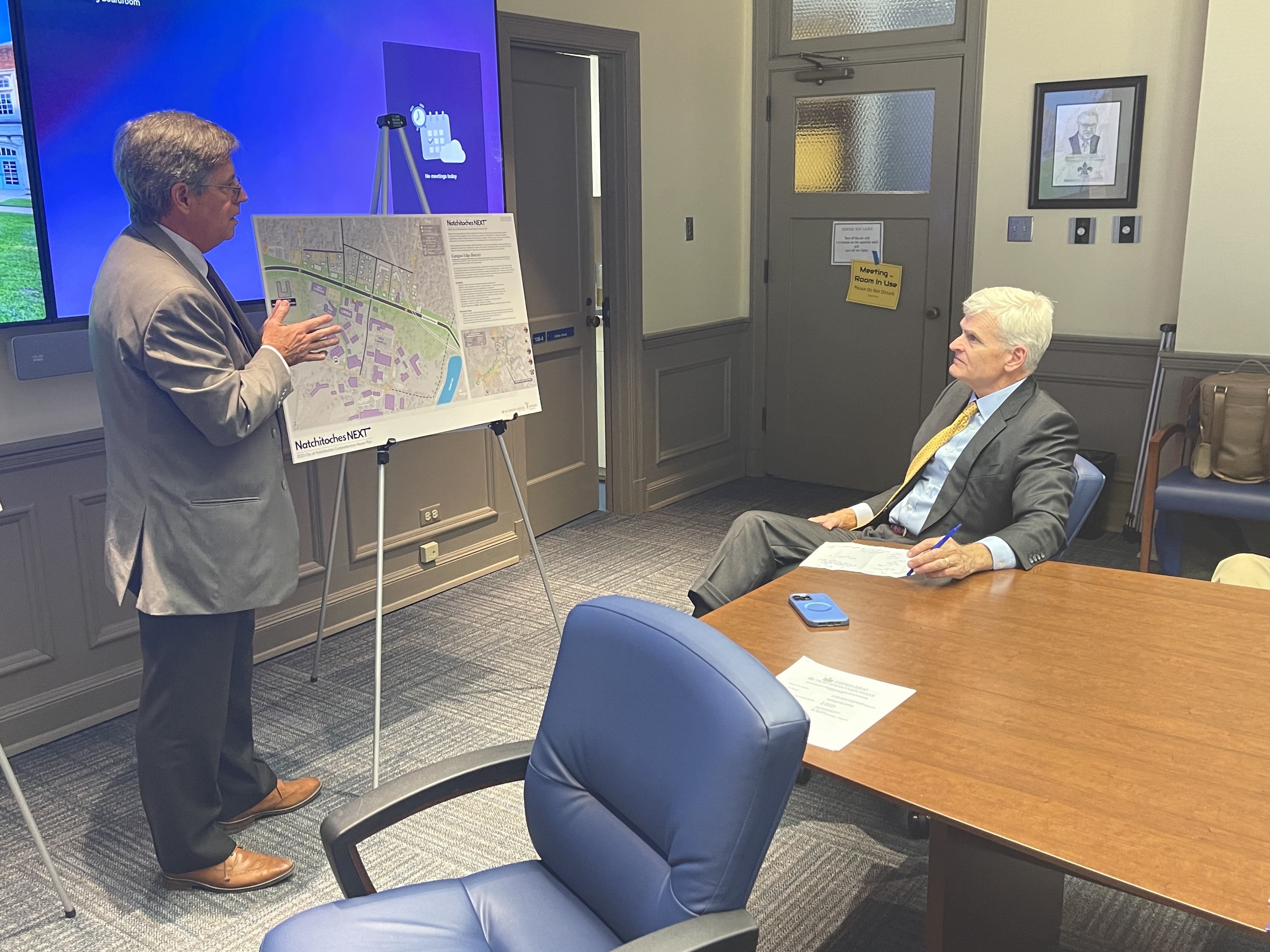 Later, Cassidy met with officials at Northwestern State University and the Louisiana School for Math, Science and the Arts to discuss their plans to build an Innovation Center. Cassidy secured $1.875 million for this project in Fiscal Year 2023. Among other purposes, the center will serve as a business incubator that supports local entrepreneurs.
"Northwestern and LSMSA are building a culture of entrepreneurship, so young people can be inspired and empowered to create businesses in this community," said Dr. Cassidy. "The Innovation Center is the means by which they will succeed, and this will benefit Northwest Louisiana, our state, and our nation."
Among others, Cassidy met with Dr. Marcus Jones, President of Northwestern State University, and Mr. Steve Horton, Executive Director of the Louisiana School for Math, Science and the Arts.
"We expect the Innovation Center to become a hub to provide resources to aspiring business owners, connect students with business and industry partners, and create a co-working, multi-purpose space where creative ideas come to life," said Dr. Jones.
"We at LSMSA see hands-on learning as an academic challenge as well as a way of letting students express themselves," said Mr. Horton. "Both the Louisiana School and NSU need to continue to cultivate students as leaders, and this is an excellent way to make that happen."
###