WASHINGTON – Today in Lake Charles, U.S. Senator Bill Cassidy, M.D. (R-LA) presented a duplicate of the Congressional Gold Medal to the family of the late Mr. Larry Stephenson, who served in World War II as part of the Merrill's Marauders. The Merrill's Marauders—formally known as the 5,307th Composite Unit (Provisional) in the U.S. Army—were awarded the Congressional Gold Medal in 2022 for their heroic actions in the Southeast Asian theatre of World War II.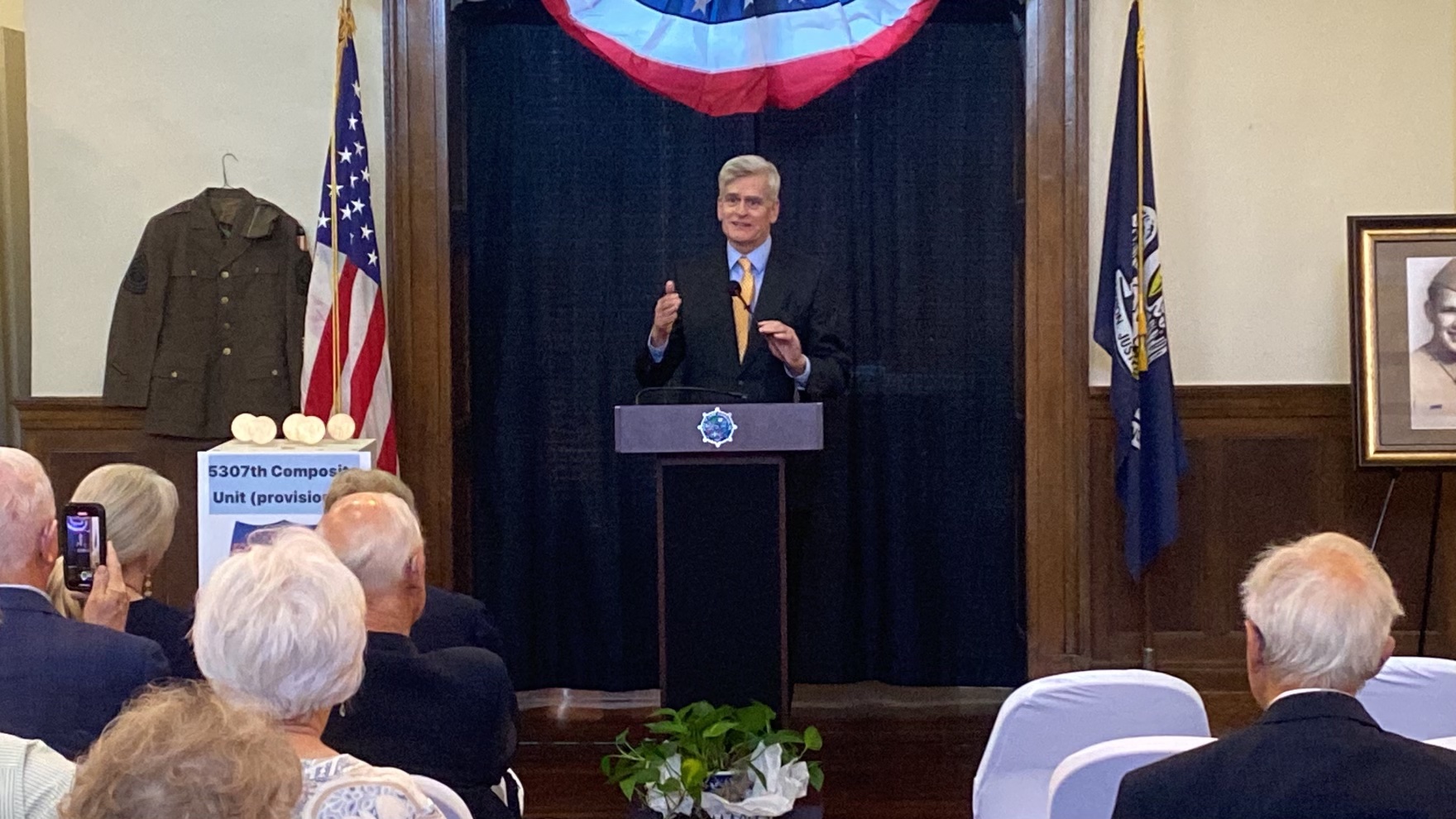 Larry Stephenson braved hunger, disease and enemy attacks to complete his mission and make it possible for America to defeat Imperial Japan," said Dr. Cassidy. "He displayed that same commitment of service after he came to Louisiana as a young man. His courage, and that of his comrades, is why we're free today." 
The Merrill's Marauders were tasked with penetrating Japanese lines in Burma, where they were to kill the enemy and open the Ledo Road to the Burma Road, so relief troops could provide supplies to our allies. The Marauders departed for Ledo, India in September of 1943. They ultimately fought five major battles and 32 minor battles from Hukawng Valley in northwestern Burma to Myitkyina on the Irrawaddy River and were successful in their mission. Less than 20 percent of the Marauders survived, with many suffering from malaria, dysentery and typhus.
 Mr. Stephenson volunteered for the Merrill's Marauders after President Franklin Roosevelt asked for volunteers for a "particularly hazardous operation." He was wounded in the lower stomach and suffered from mite typhus, which caused him to break out in blue splotches. After a long recuperation, he was discharged and later completed a bachelor of science degree from the University of Arizona and married Ms. Mary Evelyn Hanchey of Louisiana, with whom he had five children and seven grandchildren. He served as the Supervisor of Public Funds for the state of Louisiana and was active in Shriner's, Kiwanis, the VFW and other groups in Calcasieu Parish.  
Cassidy presented duplicate Congressional Gold Medals to Mr. Stephenson's children, including Ms. Linda Stephenson Cunningham, who spoke afterwards. The Mayor of Lake Charles, Mr. Nic Hunter, was also on hand to honor the family.
"My family and I deeply appreciate Senator Cassidy for taking the time from his busy schedule for the posthumous Congressional Gold Medal ceremony for my father, Merrill's Marauder Larry W. Stephenson," said Ms. Linda Stephenson Cunningham. "There was an 80 percent casualty rate among the Marauders. My father never gave up; he never quit; he overcame. He never understood why he survived the war, and so many did not. He busied himself with service activities for Lake Charles and our nation for the gift of his life."
"We owe our veterans and active duty military members a debt of gratitude that can never be fully repaid, even beyond their time here with us," said Mayor Hunter. "Today we were honored to posthumously recognize the dedicated service of one of our native sons. Presenting Mr. Stephenson's family with a duplicate cast of the Congressional Gold Medal was made even more special by having Senator Bill Cassidy join us. We thank him for joining us for this long overdue, but much deserved recognition."
Ealier, Cassidy addressed the 2023 LegisGator Luncheon, where he touted the benefits that his Infrastructure Investment and Jobs Act (IIJA) is creating for Louisiana. Last week, the U.S. Department of Energy announced that up to $600 million will be granted to Project Cypress, a major carbon sequestration project in southwest Louisiana that will capture more than one million tons of carbon dioxide every year, and then sequester it underground. This is the largest grant in the entire country announced so far as a result of the IIJA. 
"Capturing carbon is part of the future of job creation and economic development in Louisiana," said Dr. Cassidy. "This creates lots of jobs, prepares our economy for 2050, and makes our communities a better place to live and work."
Cassidy was welcomed by Mr. George Swift, the President and CEO of the Southwest Louisiana Economic Development Alliance, which sponsors the luncheon every year.
"We thank Senator Cassidy for appearing at our 18th Annual LegisGator Luncheon," said Mr. Swift. "Senator Cassidy highlighted the large investments made possible by his efforts in the bi-partisan infrastructure bill. As a result of this legislation, Louisiana and our region are seeing major improvements in broadband, airports and ports, and roads and bridges."
###