WASHINGTON – U.S. Senator Bill Cassidy, M.D. (R-LA), member of the Senate Health Education Labor and Pensions (HELP) Committee and Ranking Member of the Subcommittee on Children and Families, co-led a Senate hearing on how to improve mental health resources and treatment for high school and college students.
Cassidy also introduced and questioned two witnesses from Louisiana at the hearing: Director of Medical Student Education in Psychiatry at Tulane University School of Medicine Ashley Weiss, DO, MPH, and Vice President of Student Affairs at Xavier University of Louisiana, Curtis Wright, EdD.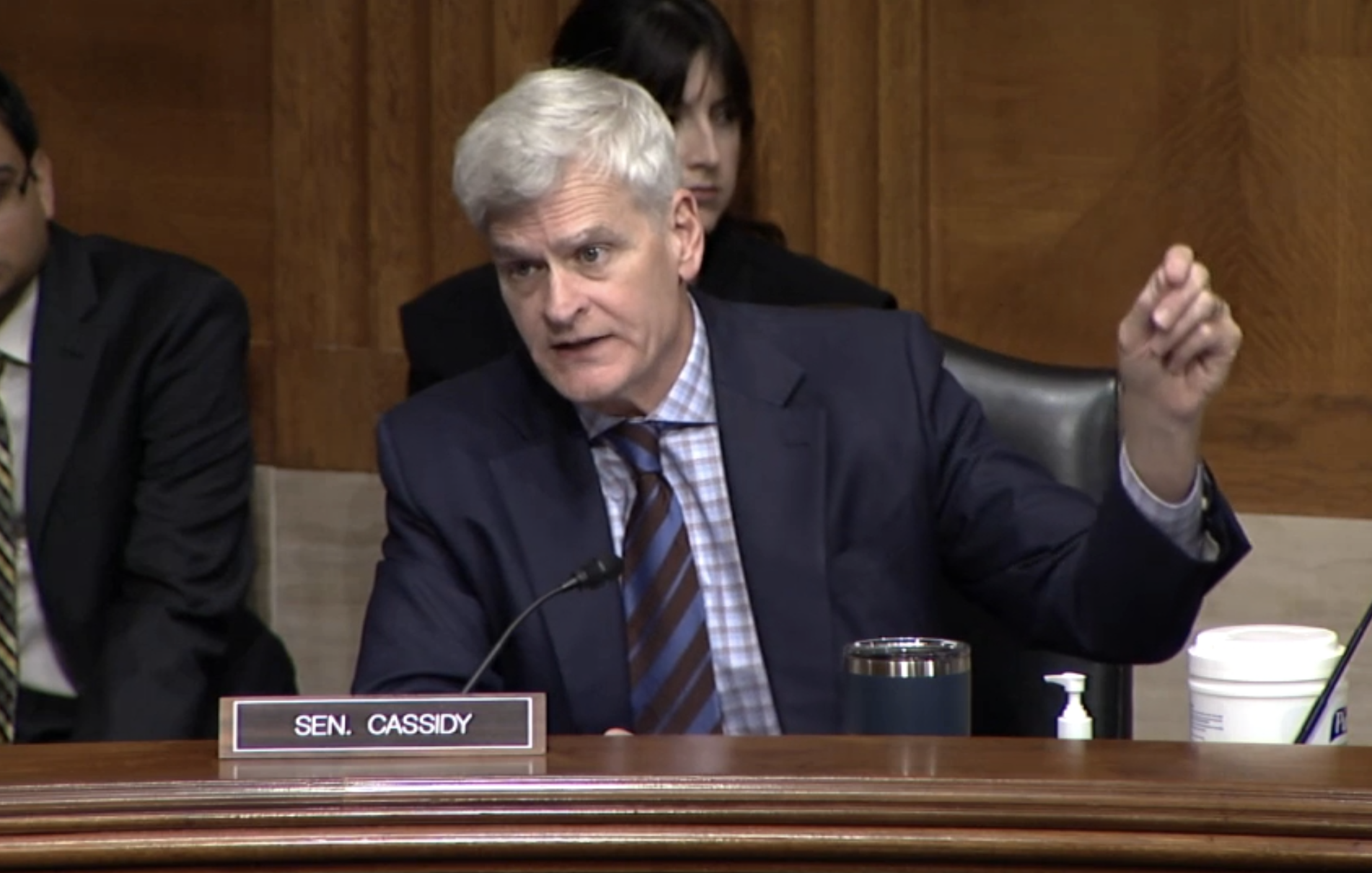 (Click here to download and watch his opening statement, here for his introductions of the Louisiana witnesses, and here for his questioning)
"Three years of Covid have just had their toll upon the adolescents and college students," said Dr. Cassidy during his opening remarks. "The statistics bear out the intuition, suicide [was the] third leading cause among those fifteen to twenty-four in 2021. Mental health emergency room visits increased by 25% in children [and by] 30% in teens in 2020. And I go back, this is more than a statistic, it is our future. So, the question is how do we care for those teens who are our future," said Dr. Cassidy.
Later in the hearing, Dr. Cassidy introduced two witnesses before the committee, beginning with Dr. Curtis Wright.
"Dr. Wright's experience will allow him to speak with a wealth of knowledge and experience to us," said Dr. Cassidy.
Cassidy also introduced Dr. Ashley Weiss.
"[In] my medical practice I worked in the same setting as Dr. Weiss taking care of the uninsured and the mentally chronically ill," said Dr. Cassidy. "They would have, I tell you, benefited from Dr. Weiss, so I am grateful that you are here and we look forward to hearing how your experience and your education can improve the support for our youth."
Cassidy later questioned witnesses on the transfer of student medical records from high school to college.
Cassidy: What you're telling me is the best practice is that the high school counselor would then be seeking a HIPPA form release that she or he could then send the information to the college, and the college could just then continue that sort of enveloping "we are going to support you."
Dr. Wright: Correct.
Cassidy: Do you have a sense of how often this best practice is actually implemented?
Dr. Wright: Very little.
Dr. Weiss: Very Little.
During the hearing, Cassidy continued his call for Congress to reauthorize the historic federal mental health and substance use disorder programs that were signed into law in 2016 as part of his Mental Health Reform Act.