METAIRIE – This afternoon, U.S. Senator Bill Cassidy, M.D. (R-LA) visited Trucking Innovation, a thriving minority-owned business that supports local construction projects via trucking, hauling and contracting services. Earlier, he spoke to the St. Bernard-Arabi Kiwanis Club about the Infrastructure Investment and Jobs Act and his vision for Louisiana.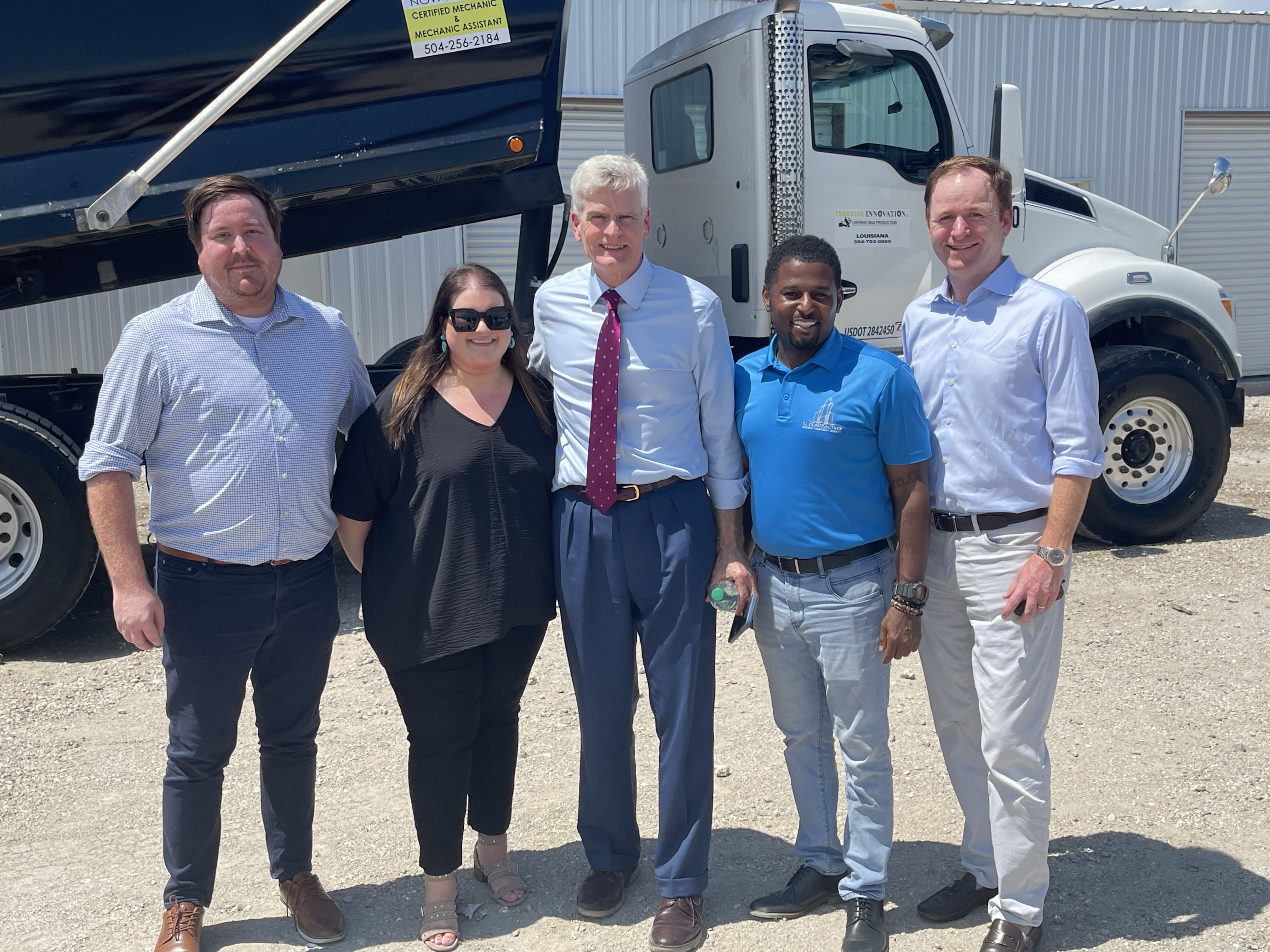 "Just met with Otis at Trucking Innovation. He's purchasing trucks and hiring workers, which is helping St. Bernard and us all," said Dr. Cassidy. "On this anniversary of Katrina, he and other business and civic leaders are the best evidence of St. Bernard's recovery."
The owner and founder of Trucking Innovation, Mr. Otis Tucker, was born to a single mother of 4 children. He attended 3 elementary schools, 2 middle schools and 2 high schools as a young man. Despite all this, he's built a company with 27 permanent workers, 30 contract workers and 15 trucks in ten years.
Cassidy preserved the New Market Tax Credit as part of the 2017 Tax Cuts and Jobs Act. According to the U.S. Department of the Treasury, the credit generates $8 of private investment for every $1 of federal funding, and has financed more than 10,800 businesses. For Trucking Innovation, the credit delivered an investment of $1.38 million for the company.
While there, Tucker led Cassidy on a tour of his company and showed him inside one of his trucks. He expressed gratitude for Cassidy's support of the New Market Tax Credit.
"Trucking Innovation is a growing company, and in recent years, has evolved from a trucking and hauling company to a full-fledged contracting firm providing needed jobs throughout the community," said Mr. Tucker. "I am pleased to host Senator Cassidy and his team today to tell them about that growth. Additionally, I applaud his support for the New Markets Tax Credit program. It was through that program that I was able to achieve the growth we see today."
At Kiwanis, Cassidy discussed the Infrastructure Investment and Jobs Act and how it benefits St. Bernard Parish. Billions are available in the IIJA for ports and waterways, and billions more are available for flood mitigation. Separately in March, the parish received over $1.49 million as a result of the Gulf of Mexico Energy Security Act (GOMESA). Cassidy supports amending by GOMESA by eliminating the state revenue sharing cap, and has introduced the Reinvesting in Shoreline Economies and Ecosystems (RISEE) Act to accomplish that goal.
The President of the St. Bernard-Arabi Kiwanis Club, Mr. Michael Chutz, released a statement thanking the Senator for visiting his group.
"The St. Bernard-Arabi Kiwanis Club is excited and proud to host Senator Cassidy at our weekly meeting," said Mr. Chutz. "All of our members are deeply interested and involved with our community and state. We are excited to see what the Senator has to share with us."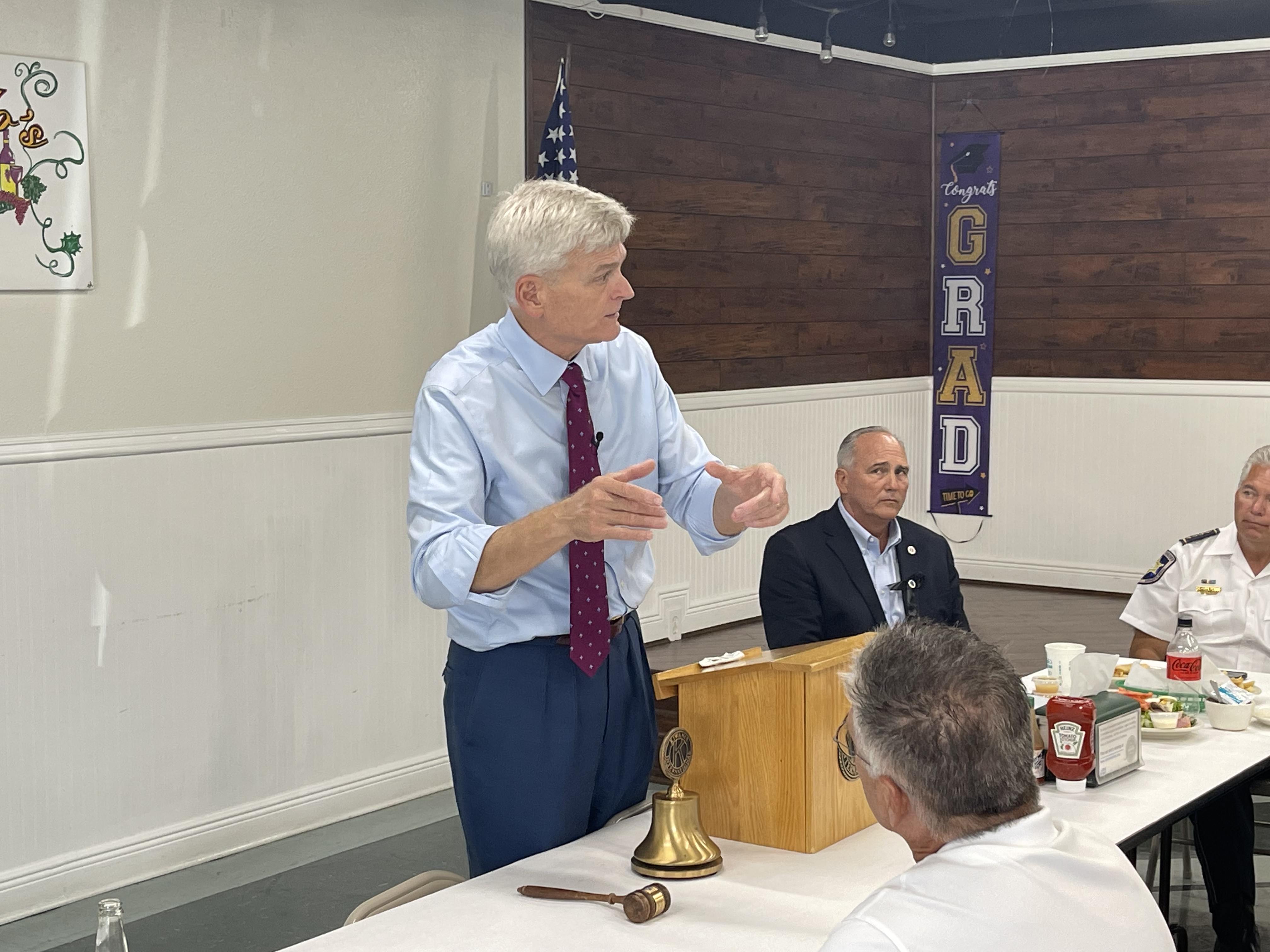 ###