WASHINGTON – U.S. Senator Bill Cassidy, M.D. (R-LA) traveled throughout Louisiana during the in-state work period meeting with veterans, high school students, local and state leaders, and constituents. In case you missed it, here are the highlights:
At the Touro Infirmary in New Orleans, Cassidy presented Ms. Mackenzie Maier with her degree in nursing from Louisiana Tech University. Maier was unable to graduate with her class at Tech's regular commencement ceremony because she suffered a serious spinal cord injury in a car accident the night before. Cassidy was joined by Dr. Les Guice, the President of Louisiana Tech, and Dr. Gary Kennedy, the Dean of their College of Applied and Natural Sciences, among others.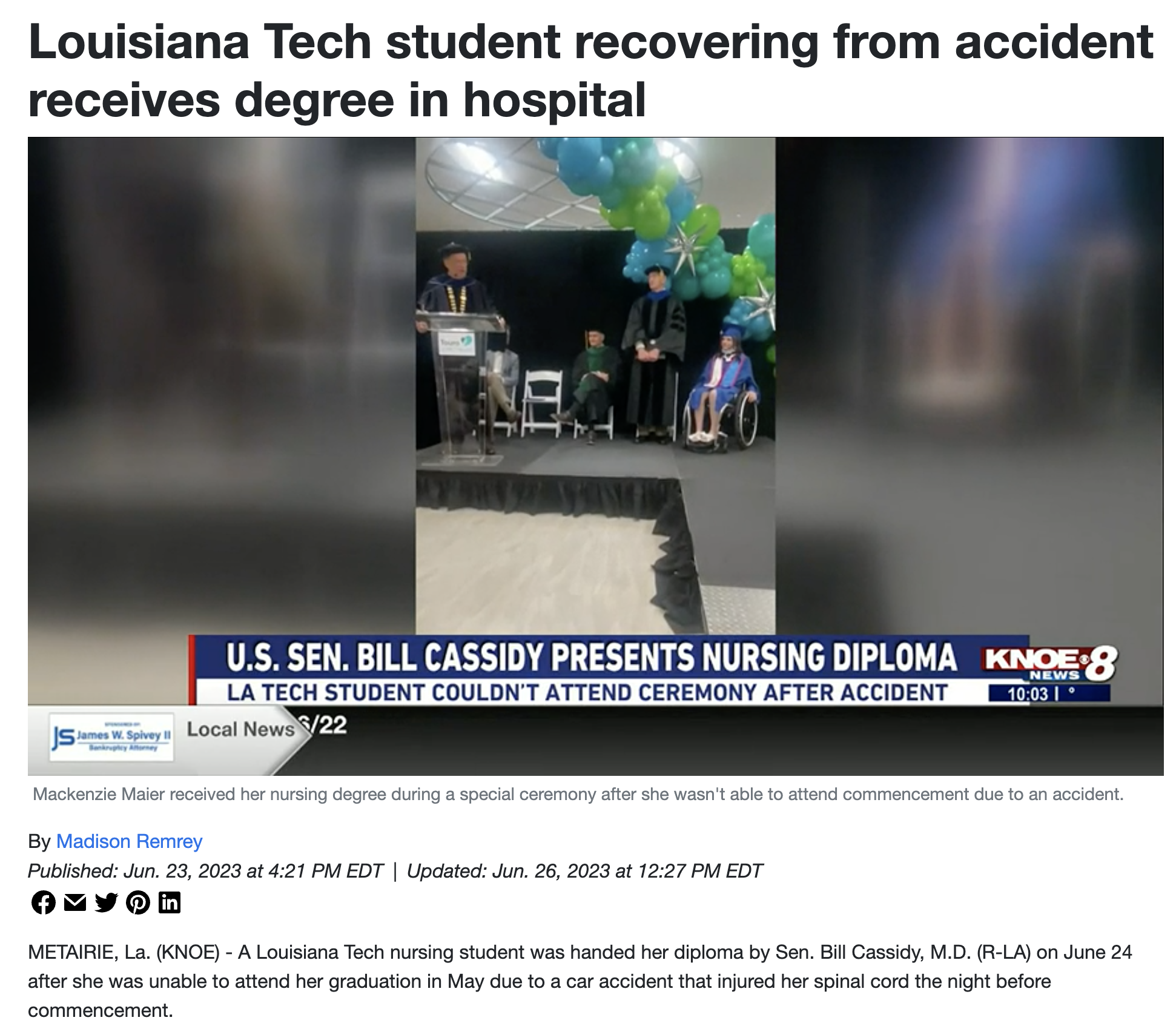 In Shreveport, Cassidy met high school seniors participating in the Louisiana Boys State Conference. He talked with them about leadership, participating in the democratic process and getting involved with their communities.
In Acadiana, he discussed the benefits of his Infrastructure Investment and Jobs Act (IIJA), especially those for the energy sector in Louisiana. He also spoke to members of the Kiwanis Club of Lafayette.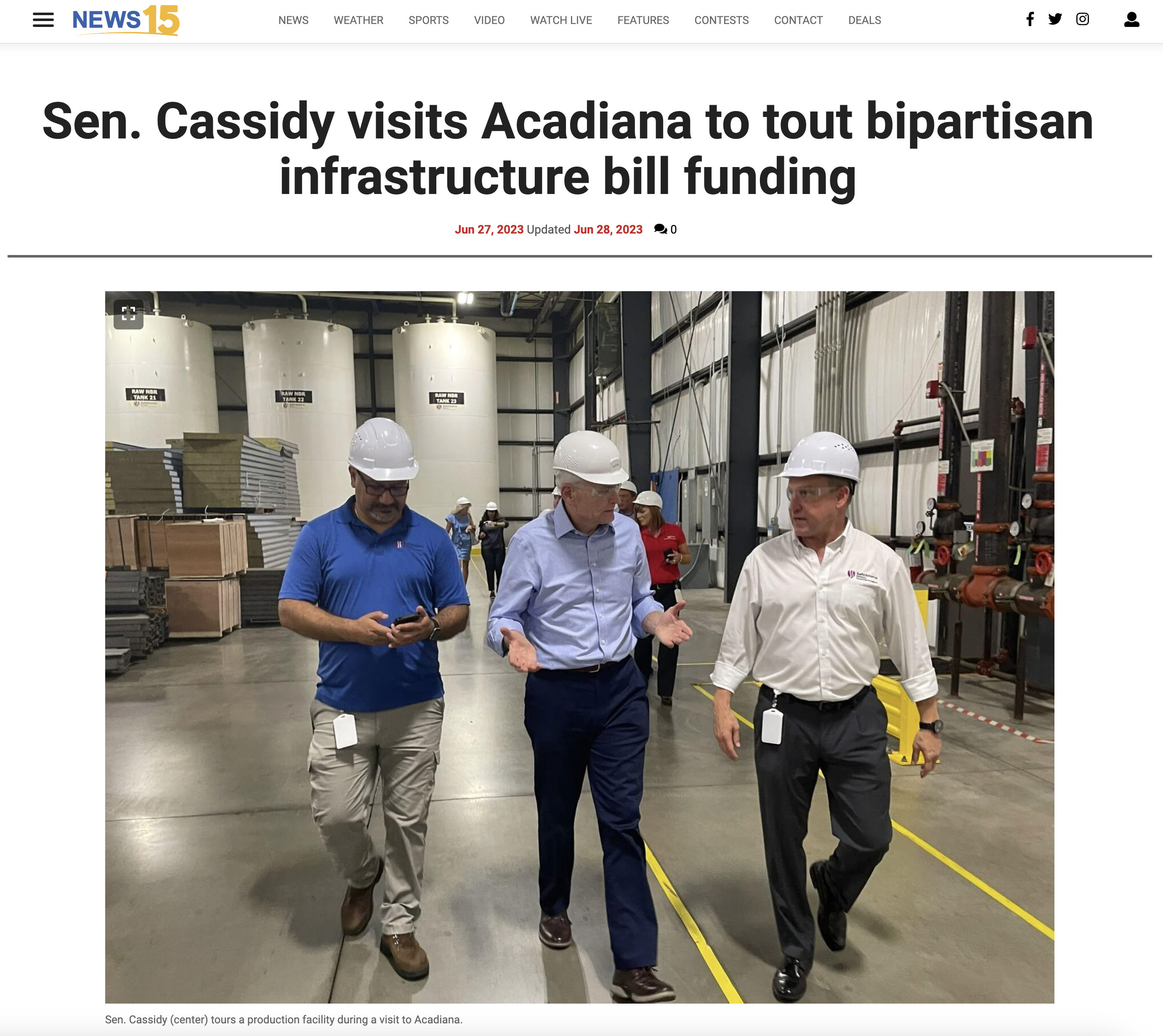 He also spent time with veterans in Jennings and met with judges on Louisiana's 22nd Judicial District Court (JDC) to discuss specialty courts, including their Veterans Court in Metairie.
"Thanks to our veterans, we are free," said Dr. Cassidy. "They deserve the best health care available to them. We will continue to improve clinics, provide private health care options, and help veterans and their families who have an issue with the VA."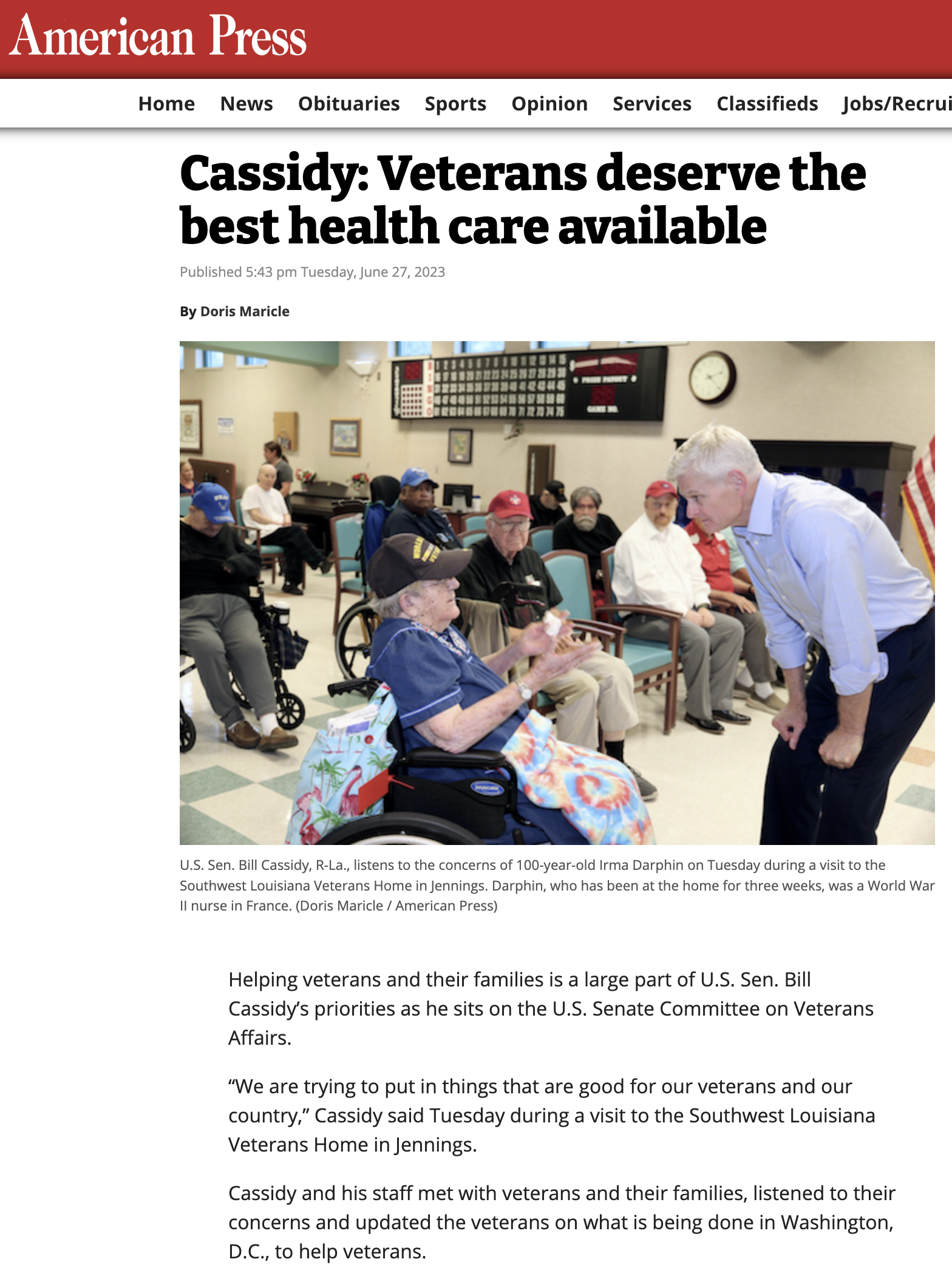 On energy, he also penned an op-ed in the American Press highlighting the need for Louisiana to secure the ability Class VI primacy—state-led enforcement for geologic sequestration of carbon dioxide. The article reiterates his support for Louisiana to take on this authority as Cassidy believes capturing and storing carbon is the next phase of job creation and economic development in Louisiana.

Cassidy took part in a roundtable with state legislators, Parish Presidents, levee district leaders and business owners in the Bayou Region, to discuss their concerns with Risk Rating 2.0 and FEMA flood maps. This roundtable comes on the heels of leading the introduction of the bipartisan and bicameral National Flood Insurance Program Reauthorization (NFIP-RE) Act of 2023. This legislation would reauthorize the program for five years, providing greater stability for homeowners, small business owners, and the real estate market as the nation continues to struggle with inflationary pressures. It will also implement a series of sweeping reforms to reduce costs, make generational investments in communities to reduce flood risk, and establish a fairer claims process for policyholders. The Advocate took note highlighting Cassidy's efforts and the need for Congressional action.
There was also an outpouring of support for the legislation including New Orleans Chamber of Commerce President and CEO Sandra Lindquist, Baton Rouge Area Chamber President and CEO Adam Knapp, Home Builders Association of Greater Baton Rouge President and CEO Karen Zito, Greater New Orleans, Inc. President and CEO Michael Hecht, Restore and Retreat Executive Director and State Representative Joseph Orgeron, Lafourche Parish President Hon. Archie Chaisson, III, St. Tammany Corporation CEO Chris Masingill, Terrebonne Levee and Conservation District President Tony Alford, Northshore Home Builders Association Executive Officer Amy Ybarzabal, and National Association of Counties Executive Director Matthew Chase. Here's what people are saying.
Cassidy also made a stop in Hammond to tour a medical supply distributor, addressed the annual banquet for the South Central Industrial Association, visited with LSU coach Brian Kelly, congratulated LSU baseball on winning the College Baseball World Series and being crowned the 2023 National Champions, spoke at the annual meeting of Restore or Retreat to support the restoration of Louisiana's coastline, and toured Thoma-Sea Marine Constructors in Houma.
"We are all proud of our baseball and women's basketball team, and look forward to a great football season this fall," said Dr. Cassidy. "Geaux Tigers!"
Grant Funding Announcements
Cassidy announced Louisiana will receive $1,355,554,552.94 in broadband funding from his Infrastructure Investment and Jobs Act. This is a historic $1.3 billion investment that will enable millions of Louisiana students, small businesses, and families to reach their full potential with access to high-speed internet. Learn More Here.
The Tunica-Biloxi Tribe of Louisiana received a $1.6 million grant from the Department of Commerce's Economic Development Administration (EDA) for the construction of a multi-enterprise manufacturing facility that will support the growth of the region's manufacturing sector and create new jobs. This grant will support the design and construction of the Garan Building to support business expansion in local industries including sewing fabrication and rare earth materials. It will be matched with $250,000 in local funds and is expected to create 110 jobs and generate $1.4 million in private investment, according to grantee estimates. Learn More Here.
He also announced a slew of hurricane relief funding from the Federal Emergency Management Agency (FEMA) including:
| | | |
| --- | --- | --- |
| Grant Awarded | Recipient | Project Description |
| $3,674,290.22 | South Louisiana Electric Cooperative Association | This grant will provide federal funding for emergency protective measures as a result of Hurricane Ida. |
| $1,126,558.25 | Southwest Louisiana Hospital Association | This grant will provide federal funding for Phase 2 temporary facilities at the Lake Charles Memorial Hospital as a result of Hurricane Laura. |
| $2,284,503.56 | Southwest Louisiana Hospital Association | This grant will provide federal funding for campus wide emergency protective measures at Lake Charles Memorial Hospital as a result of Hurricane Laura. |
| $1,398,373.27 | Children's Hospital | This grant will provide federal funding to the Louisiana Children's Medical Center DBA LCMC Health for emergency protective measures required as a result of Hurricane Ida. |
| $4,736,922.62 | Jefferson Parish | This grant will provide federal funding for debris removal operations required as a result of Hurricane Ida. |
| $4,741,389.00 | Children's Hospital | This grant will provide federal funding to Louisiana Children's Medical Center DBA LCMC Health for generator repairs required as a result Hurricane Ida. |
| $3,064,767.59 | Washington – St. Tammany Electric Coop, Inc. | This grant will provide federal funding forAlternative Procedure Debris Removal required as a result of Hurricane Ida. |
###