Lafayette – U.S. Senator Bill Cassidy, M.D. (R-LA) today visited with nursery farmers in Forest Hill whose businesses were impacted by the winter storm of 2021, and celebrated the LaGrange High School 2020-21 Girls 4A State Basketball Championship in Lake Charles. He also visited LSU-Eunice.
"Through the challenges faced in 2020, Louisianans have persevered," said Dr. Cassidy. "The resilience of nursery farmers in Forest Hill through storms and high school basketball players winning championships in Lake Charles are great examples."
In Forest Hill, Cassidy visited with affected nursery farmers, including seeing the damage at one of the nurseries.
"The vibrant nursery industry in Forest Hill has been severely impacted not only by the pandemic, but by two hurricanes and the recent ice storm," said Deborah Randolph, President of the Central Louisiana Regional Chamber of Commerce. "We deeply appreciate U.S. Senator Bill Cassidy for visiting Forest Hill to see the damage, meet with nursery owners and provide information about federal assistance available to help with the path to recovery."
At LaGrange, Cassidy presented members of the girls' basketball team with a copy of the Congressional Record, honoring their accomplishment despite last year's hurricanes.
"What an amazing honor it has been to have U.S. Senator Bill Cassidy come out to LaGrange to acknowledge our two-time State Championship Winning Lady Gators!" said Mrs. Monica Thibodeaux Guillory, Principal at LaGrange High. "The LaGrange Lady Gators, their families, and their coaches have had to work through the devastation of two hurricanes that displaced many of them. Through it all, these young ladies kept it together. I knew that Senator Cassidy would want to hear this team's story."
Earlier in the day, Cassidy toured LSU-Eunice, where he received a briefing on their expansion plans, which include accommodating new students to study STEM and agricultural fields.
"LSU-Eunice is important for the region and important for our state," said Cassidy. "LSU-E leaning in to take more students in advanced fields is the latest example."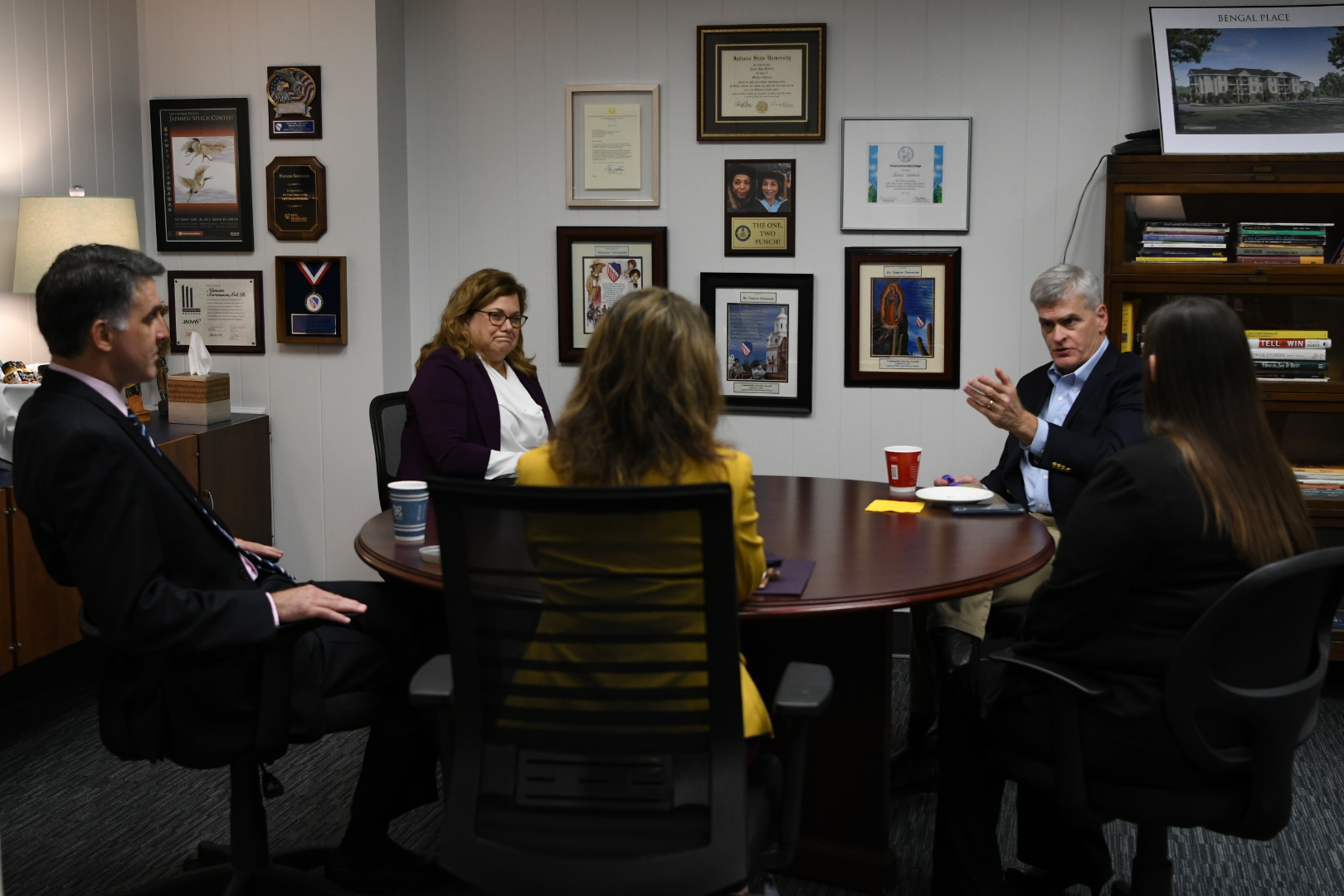 Photo Courtesy of Travis Webb, Director of Public Relations with LSU-E
"We are thrilled that Senator Cassidy is touring Louisiana State University – Eunice," said Ms. Nancee Sorenson, Chancellor of Louisiana State University at Eunice. "LSUE has been selected by Achieving the Dream as a Rural Cohort Institute to assist the Acadiana Region to prepare for the Future of Work. To bring us to these goals, we have a vision and plan for a STEAM Innovation Center, combining the disciplines of Science, Technology, Engineering, Agriculture and Mathematics, to educate and train the workforce of today and tomorrow."