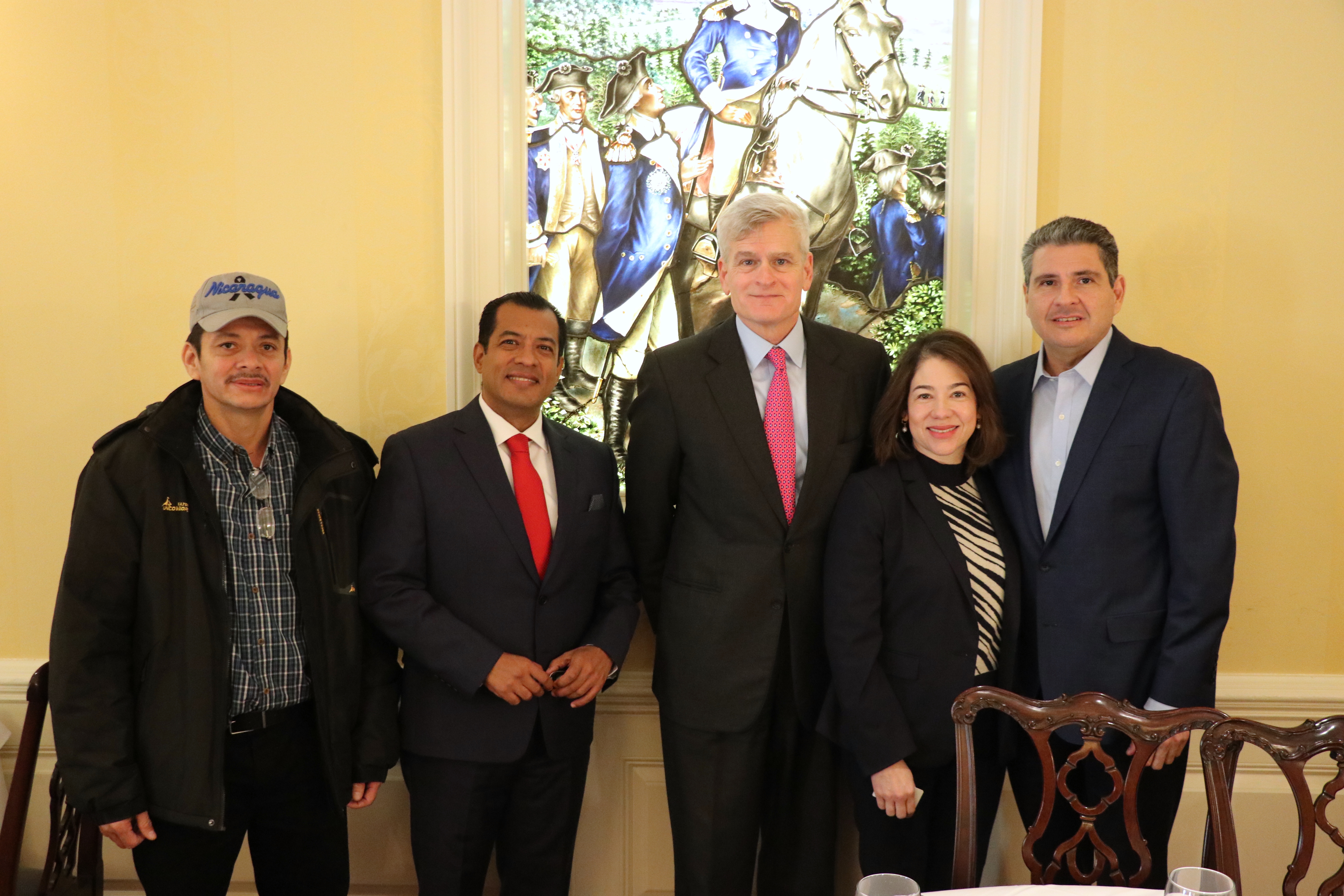 WASHINGTON – U.S. Senator Bill Cassidy, M.D. (R-LA) today welcomed Félix Maradiaga, Juan Sebastian Chamorro, and other Nicaraguan political refugees to the U.S. Capitol after being freed from their wrongful imprisonment under Nicaraguan Dictator Daniel Ortega. The group represented part of the 222 political prisoners arrested and imprisoned on false political charges by the Ortega regime in 2021.
"Nicaraguans are being imprisoned for daring to form civic organizations, run for political office, or even speak against the government of Daniel Ortega," said Dr. Cassidy. "These Nicaraguans spent months and years in jail in rooms 20 feet by 20 feet without running water or toilets. They say what constantly encouraged them was the Declaration of Independence and a statement of the rights that all should have. They thank the United States for enabling their freedom."
"I want to thank Senator Cassidy and his staff for their extraordinary support for my wife and me over my time as a political prisoner in Nicaragua. His personal dedication to securing the release of all the political prisoners was so important. I now look forward to working with him to securing the release of the remaining 39 political prisoners and to restoring democracy to my country," said Félix Maradiaga.
"The strong and unrelenting efforts of Senators and Members of the House of Representatives were essential to secure the release of Nicaragua's political prisoners. We are especially grateful to Senator Cassidy for his critical contributions to these efforts," said Jared Genser, a human rights lawyer who served as pro bono counsel to Maradiaga.
Background
The group was expelled from Nicaragua last week along with nearly 200 political prisoners. Since their expulsion, they have had their nationality revoked. During their imprisonment, the group described inhumane conditions and abuse.
Cassidy has consistently called for Maradiaga's release over the past two years, including marking his 600th day in prison. Cassidy's staff has been in regular contact with Maradiaga's wife, Berta Valle, since Maradiaga's arrest, along with the families of several others wrongfully imprisoned in Nicaragua.
Spain announced Friday that it would grant Maradiaga and other freed political prisoners Spanish citizenship.
###