WASHINGTON—Today, US Senator Bill Cassidy, MD (R-LA) spoke on the Senate floor to recognize Sergeant Shawn Anderson, of the East Baton Rouge Sheriff's Department, who recently lost his life in the line of duty, protecting his community. Senator Cassidy also recognized ten other Louisiana Police Officers who sacrificed their lives while serving.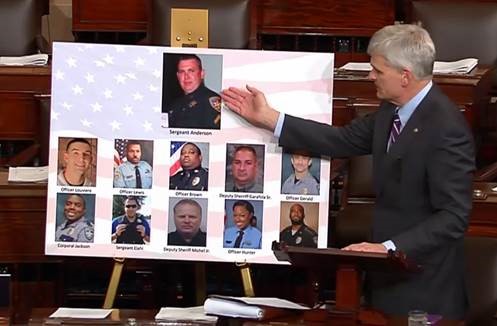 Watch Dr. Cassidy's full remarks here.
Mr. President,
This weekend the city of Baton Rouge was reminded how precious life is, and the harsh reality that our law enforcement officers put their lives on the line every day.
I want to honor the life of Sherriff's Deputy Shawn Anderson and recognize him for his 18 years of faithful service to East Baton Rouge Parish and the State of Louisiana, as well as his service to our nation as a member of United States Army.
On Saturday, March 18, 2017 Deputy Anderson made the ultimate sacrifice while he and a fellow officer were conducting a rape investigation in Baton Rouge.
Deputy Anderson embodied public service, taking action to help those in need.
During his entire career, Deputy Anderson repeatedly put his life on the line to protect the lives of others. He spent 12 years as a member of the SWAT team and was recognized in 2014 for serving more than 60 high-risk warrants the previous year with no injuries or shots fired.
Last year, Deputy Anderson stepped above his job description and helped deliver a child. With a baby on the way and a hospital out of reach, a Prairieville couple turned to Deputy Anderson for help. In the middle of the road, Anderson took action and successfully delivered the healthy child before turning the situation over to the arriving EMTs. A Louisiana family asked for his help and Anderson answered the call.
Since January, 2016 Louisiana has lost elven officers and one K9 in the line of duty.
It is with both pride and sadness that I present the names of these true heroes to honor their memory and sacrifices.
Police Officer Michael D. Louviere of the Westwego Police Department, age 26
Police Officer Jude Williams Lewis of the New Orleans Police Department, age 46
Police Officer Shannon Matthew Brown of the Fenton Police Department, age 40
Deputy Sheriff Bradford Allen Garafola, Sr. of the East Baton Rouge Parish Sheriff's Office, age 45
Police Officer Matthew Lane Gerald of the Baton Rouge Police Department, age 41
Corporal Montrell Lyle Jackson of the Baton Rouge Police Department, age 32
Sergeant David Kyle Elahi of the Sterlington Police Department, age 28
Deputy Sheriff David Francis Michel, Jr. of the Jefferson Parish Sheriff's Office, age 50
Police Officer Natasha Maria Hunter of the New Orleans Police Department, age 32
Sergeant Derrick Morial Mingo of the Winnsboro Police Department, age 35
K9, Duke of the Winnsboro Police Department
Thousands of men and women in law enforcement put on the uniform, step out into the community, and risk their lives every day to keep us safe. Far too often the price of this safety falls on these officers and their families.
Deputy Anderson represents the best of law enforcement. He and his family deserve our admiration and support. His sacrifice will be remembered. The prayers of a grateful state and nation are with his wife Rebecca, his daughter Delaney, and his son Breland.