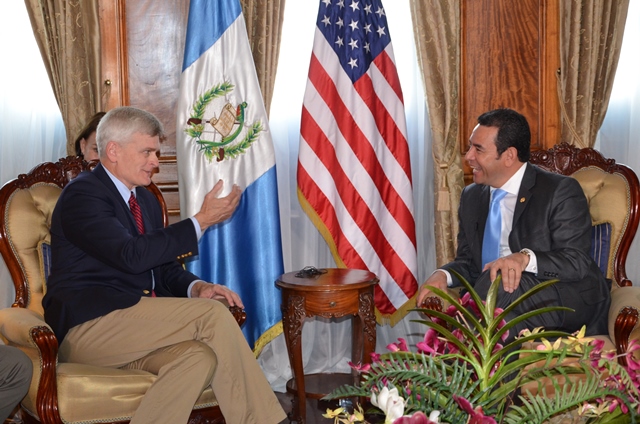 Cassidy talks with Guatemalan President Jimmy Morales
WASHINGTON—U.S. Senator Bill Cassidy, M.D. (R-LA), a member of the Senate committees on health and finance, recently conducted meetings with foreign heads of state and senior government officials in Guatemala and Mexico focused on strengthening border security, fighting drug trafficking, improving trade, and creating Louisiana jobs. Senator Cassidy was joined by U.S. Representatives Vicente Gonzalez (D-TX) and Ruben Kihuen (D-NV), two members of the House Financial Services Committee.
"Mexico and Guatemala are key partners in the global fight against drug trafficking, including the deadly opioids fueling the addiction epidemic in our neighborhoods," said Dr. Cassidy. "In our discussions I was able to stress the importance of their cooperation, and get a firsthand look at their efforts on the ground. We also talked about the impacts of illegal immigration and the need for greater security and strong borders. When it comes to trade, Louisiana sells billions of dollars' worth of goods to Mexico, so I want to make sure that as NAFTA is renegotiated it is done so in a way that strengthens our trade relationship and provides even more benefits and opportunity to Louisiana workers."
In Guatemala City, the members met at the presidential palace with President Jimmy Morales and members of his cabinet regarding the fight against drug trafficking, and potential improvements to security and trade policy. The members also took part in a meeting hosted by the Council of the Americas, visited the Mirador Basin at the invitation of the Guatemalan government to discuss the potential for economic development to displace drug trafficking, and visited U.S. Marines stationed in Flores as a Special Purpose Marine Air-Ground Task Force (SPMAGTF).
In Mexico City, the members met with American officials at the U.S. embassy and received classified briefings from the U.S. Department of Defense on counternarcotics and threat security cooperation. They also met with Mexican Under Secretary of Foreign Trade Juan Carlos Baker to discuss ongoing negotiations over NAFTA, and met with President-elect Andrés Manuel López's chief of staff, Alfonso Romo, and incoming foreign minister Marcelo Ebrard.
Mexico is Louisiana's second largest trading partner. Agriculture represents 25 percent of Louisiana's exports to Mexico, and U.S. natural gas exports to Mexico have more doubled in the last three years.
###