WASHINGTON—Today, US Secretary of the Interior Ryan Zinke committed to working with US Senator Bill Cassidy, MD (R-LA) to address GOMESA funding and improve the Gulf.
This came during Secretary Zinke's testimony at the Senate Energy and Natural Resources Committee hearing on the President's FY18 proposed budget. At the hearing, Senator Cassidy expressed the importance of Louisiana's coastal restoration projects to reduce the severity of potential damage, caused by future storms, to local communities and important energy production infrastructure that is critical to US energy independence.
Coastal restoration projects are funded by current offshore oil revenue sharing between Louisiana and the federal government.
Secretary Zinke said:
"…What I can say is that I'll work with you on it, certainly. I understand the importance to Louisiana. We think that taking 94 percent of the offshore assets offline has had a significant detriment to revenue of Interior and when you have a lot of money, the choices become easier. But when you drop 15.5 billion dollars a year in revenue, much of it from offshore, much of it from the gulf, some of it from Alaska and other holdings, it creates a significant issue on funding. So I will work with you on it and I'd be glad to."
To watch the full interaction click here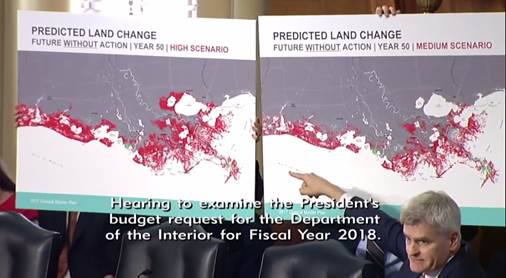 Secretary Zinke also tweeted his commitment.