METAIRIE – This morning, U.S. Senator Bill Cassidy, M.D. (R-LA) took part in a ceremony honoring residents of St. Bernard Parish who lost their lives due to Hurricane Katrina. While there, he gave brief remarks and was joined by Lieutenant Governor Billy Nungesser and local elected officials. 
"We remember those who died from Hurricane Katrina with great sadness but also recognize the progress St. Bernard Parish has made. This parish and its people have a bright future," said Dr. Cassidy.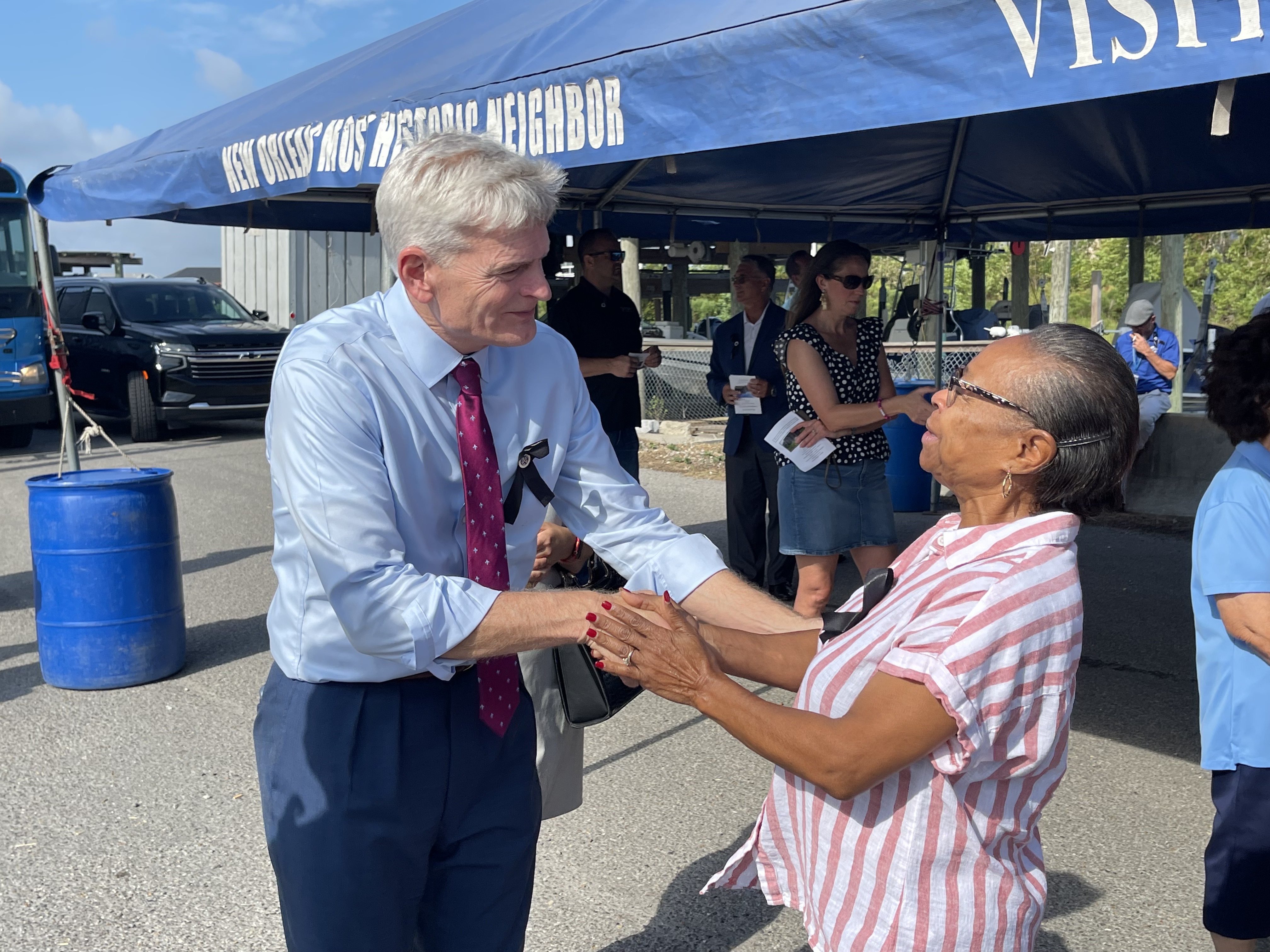 Eighteen years ago today, Katrina made landfall in Louisiana, with sustained winds of 125 miles per hour. Over 140 people died, 81% of housing units were damaged, and water levels were up to 15 feet in parts of the region. The flooding occurred partly as a result of the breaching of the Mississippi River Gulf Outlet's levees in about 20 places.
In the aftermath of Katrina, Cassidy was a practicing doctor working at Earl K. Long Charity Hospital. He led a group of health care volunteers to convert an abandoned K-Mart building into an emergency health care facility, providing basic health care to hurricane victims.
As a Senator, Cassidy is committed to protecting Louisiana from damaging floods. His Infrastructure Investment and Jobs Act (IIJA) included $17 billion to advance critical Army Corps of Engineers projects. Over $378 million was granted last January for the Morganza-to-the-Gulf project, along with $125 million for the Southwest Coastal Louisiana Hurricane Protection system. An additional $28 million was dedicated to Morganza-to-the-Gulf in a Fiscal Year 2024 appropriation.
Among the local officials present were St. Bernard Parish President Guy McInnis.
"We appreciate U.S. Senator Bill Cassidy's presence and participation at our solemn Katrina commemoration on the anniversary of the storm that devastated our parish," said President McInnis. "Senator Cassidy is no stranger to our parish having visited St. Bernard not long after the Arabi tornado incidents. Furthermore, we welcome his engagement with parish residents on the spike in insurance costs that are burdening so many people across the state and other issues that affect St. Bernard."
###