WASHINGTON — US Senator Bill Cassidy, MD (R-LA) applauded the passage of the Continuing Resolution and the flood relief aid included in the bill. The CR includes a $500 million down payment to help people affected by this year's flooding in Louisiana and in other areas.
Dr. Cassidy released the following statement:
"There are families with mud covering their living room floors and mold growing up their walls. I learned of one family that lost their home in New Orleans in Katrina. They relocated to Baton Rouge and now have lost yet another home. Today's vote gives families like these assurance that help is on the way.
"We've made a half a billion dollar down payment that will ensure these families have the resources they need to start recovering, rebuilding and prospering again. However, our work is not done, this is a down payment. The entire delegation will continue to press to make sure that every Louisianan has what they need to get their lives back. This is a good start."
Immediately prior to the bill's passage, Dr. Cassidy spoke on the Senate floor about the importance of securing relief aid for the people of Louisiana and encouraged his colleagues to support the Continuing Resolution.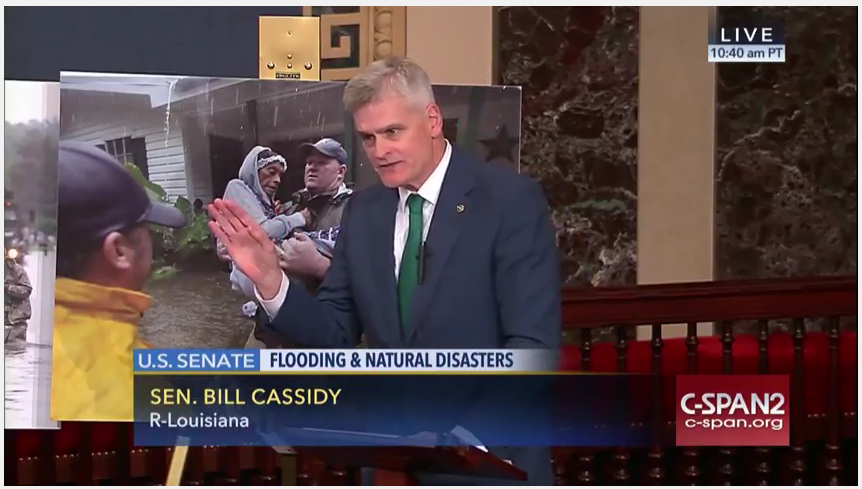 Watch his remarks here.
Dr. Cassidy's remarks as prepared for delivery are below:
Mr. President, I've spoken on this floor twice now, to tell the stories of the devastation caused by the Great Flood of 2016 and the depth of need Louisiana families feel. Since I last spoke, almost ten thousand more people have applied for individual assistance through FEMA, growing the total to now almost 146,000. This is a serious, immediate issue—we must help those who are in great need in Louisiana now.
In all of the debate back and forth, we have lost sight of how massive this disaster is. This was an unprecedented weather event. The National Weather Service deemed this a once in a thousand year flood event. Twenty Parishes have been declared disaster areas. In the city of Denham Springs, 90 percent of homes flooded and in about half of the total structures that flooded, it will cost owners over 50 percent or more of the building's total value to repair.
According to estimates reported by The Advocate newspaper, as many as 12,000 Baton Rouge area businesses flooded. The National Flood Insurance Program found that close to 40 percent of businesses that flood never reopen. For the small businesses that do reopen their doors, the great cost of rebuilding can prove too great to overcome, forcing the business to close and putting employees out of work.
The flooding caused 8.7 billion dollars in damage—making it, besides hurricanes, the most expensive natural disaster to occur in our country in the last 100 years.
Let me repeat that one more time:
The flooding caused 8.7 billion dollars in damages—making it, besides hurricanes, the most expensive natural disaster to occur in our country in the last 100 years.
No one was prepared. Less than a quarter of the population even had flood insurance because the flooding occurred in areas that are more than 50 feet above sea level, where people were told they were not in a flood zone or at low-risk of flooding. They were never told that they needed to buy insurance.
We have thousands of families that were completely caught off guard, unprepared, by a freak of nature thousand-year flood and are now struggling to pick up the pieces. They need our help. They are trying to make a decision on whether to stay in their damaged homes and try to rebuild or just move on. It is our duty to make sure that these families have the resources they need to recover and to rebuild.
Here you can see a family being evacuated by volunteers. This is a residential street. Water is that high inside their house too and all they were able to salvage is in the bags in their hands. All their belongings now—beds, clothes, pictures, family heirlooms—are more than likely in a debris pile on the side of the street. Meanwhile, they have to make the serious decision on whether they can afford to rebuild. This is only one family. So far, over 145,000 people have applied for Individual Assistance through FEMA. They need to know if that assistance is coming.
Let me remind you of Dorothy Brooks—she is 78 years old— this picture shows her being rescued from her home, through three feet of floodwater, by Tangipahoa Sheriff's Office Sargent Thomas Wheeler. Dorothy, who relies on a wheelchair, did not have the time, let alone the ability to prepare her home for the rapid flooding. Imagine the fear she felt, being handicapped, watching the flood waters rise around her. Seniors like Dorothy who have returned to their homes are encountering further obstacles. Because of their age, they are unable to carry out the labor necessary to properly clear out their homes to prevent the spread of mold. They need help.
Let me also remind you of Roy and Vera Rodney, both in their 80s, had 4 inches of water enter their house. The FEMA inspector told them their home was habitable so they were denied repairs and rental assistance. With no family in town to help them gut and repair their house, they were forced to let all of their water damaged carpet, furniture and belongings—just sit. It didn't take long for mold to appear and their house became too unhealthy to live in. They evacuated to distant family. While there, they were not available to have volunteers gut their home, so they had to reschedule. In the weeks they were forced to wait, their home remained ungutted and mold spread everywhere. Because they could not get the aid they needed, their cost of recovery only grew with time.
Our state is in crisis and for some reason the unparalleled severity of this natural disaster has been overlooked. To delay this aid would be devastating for the people of Louisiana. It is crucial that Congress approves funding before it leaves for the fall recess.
Helping each other is a fundamental American value, I enlist all of my colleagues to support this legislation – to help families faced with losing their homes and everything they own. To help folks pick up the pieces and put their lives back together. Let's do what's right and pass the legislation and pass relief for flood victims—I yield back.
###