METAIRIE – Today, U.S. Senator Bill Cassidy, M.D. (R-LA) spoke with business and community leaders at events hosted by Greater New Orleans, Inc. (GNO, Inc.) and the Louisiana Association of Business and Industry (LABI). Among other topics, he discussed how to tap Louisiana's energy resources to create jobs, reduce America's dependence on foreign oil, and rebuild Louisiana's coastline.
To that end, Cassidy highlighted his Reinvesting in Shoreline Economies and Ecosystems (RISEE) Act. The RISEE Act would amend the Gulf of Mexico Energy Security Act (GOMESA) to, among other things, remove the revenue sharing cap on offshore energy production which could bring billions of additional dollars to Louisiana that we use for coastal restoration. The legislation would also make offshore wind production eligible for revenue sharing.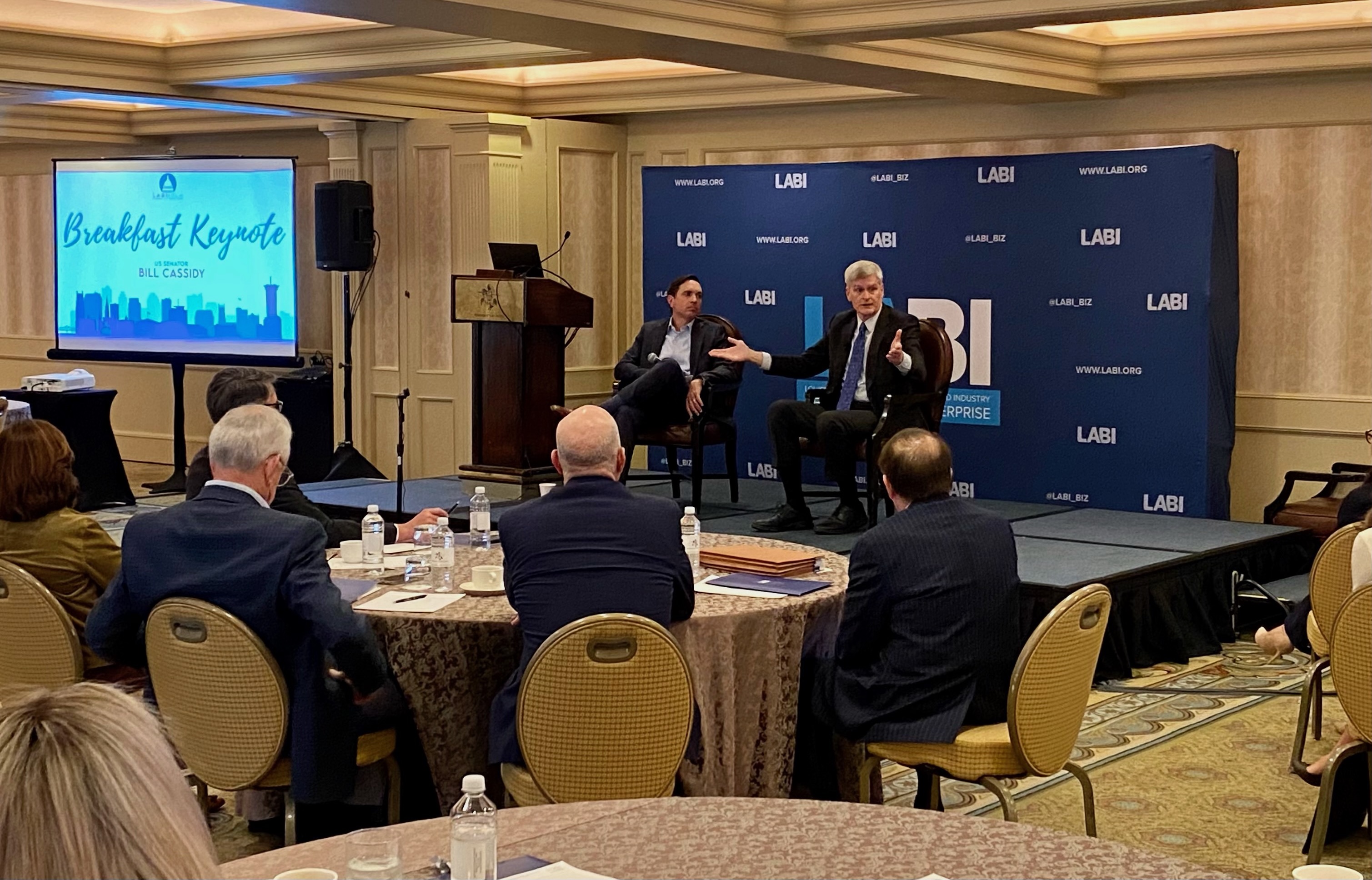 "Louisiana has lost more land to rising sea levels than any other state. The RISEE Act dedicates royalties from oil production off our coast to help save our coast," said Dr. Cassidy. "This is good for future energy production—it's great for Louisiana."
Cassidy also discussed how his Infrastructure Investment and Jobs Act will continue to help Louisiana. Just in the past month, another $46 million was allotted in the bill for coastal hurricane protection, which will benefit Calcasieu, Cameron and Vermilion Parishes. Money from the IIJA has also recently been allotted for transportation and airportimprovements.
Cassidy was welcomed by leaders from both GNO, Inc. and LABI at the events.
"We are thankful for the time Senator Cassidy spent with us today to explain the benefits that the RISEE Act will have on Southeast Louisiana," said Mr. Michael Hecht, President and CEO of GNO, Inc. "This bill is a critical step in preserving our state's leadership role in the energy sector today through oil and gas in the future with offshore wind."
"We're honored that Senator Cassidy was able to join us for the LABI Federal Outreach Tour today," said Mr. Stephen Waguespack, President and CEO of LABI. "This event is a chance for LABI board members to interact with the Louisiana Congressional Delegation, and it was beneficial to get an update on all things Washington. Senator Cassidy continues to be an ally to the Louisiana business community on Capitol Hill and here at home."
###