METAIRIE – Today in Metairie, U.S. Senator Bill Cassidy, M.D. (R-LA) spoke to the Government Affairs Committee of the Jefferson Chamber of Commerce, about his work to make flooding less likely and strengthen Louisiana's energy industry, among other topics. Members of the Chamber's Young Professional Group were also in attendance.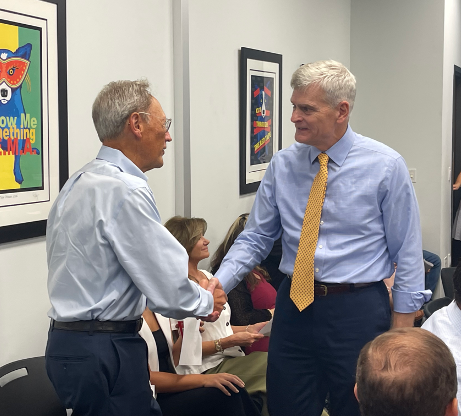 "There's a lot of opportunity in Jefferson Parish and southeastern Louisiana, thanks to the benefits of the infrastructure bill and the energy transition that is opening up lots of jobs," said Dr. Cassidy. "We're continuing to address infrastructure needs, flood insurance and other issues, but the future is bright."
Cassidy's Infrastructure Investment and Jobs Act includes $17 billion for Army Corps of Engineers projects, $3.5 billion for flood mitigation assistance grants and $1 billion for Building Resilient Infrastructures and Communities (BRIC) grants. All of this money makes flooding less likely for residents of Louisiana. Indeed, last month Jefferson Parish received over $2.1 million to elevate 11 residential properties and over $2.89 million to elevate 19 properties in April.
Additionally, the infrastructure bill supports carbon capture demonstration projects, to make Louisiana energy more attractive overseas. This includes Taft Carbon Capture, LLC in Hahnville, which was selected as a demonstration project by the U.S. Department of Energy. The project, which services the Taft cogeneration power plant facility, will store up to 3 million tons of carbon dioxide each year, roughly 90% of the CO2 emissions captured from the plant.
Cassidy was welcomed by Ms. Ruth Lawson, President of the Jefferson Chamber of Commerce.
"Senator Cassidy has been a great ally of businesses both large and small in Jefferson Parish," said Ms. Lawson. "His efforts in Congress have made our community more resilient with a focus on coastal restoration, flood mitigation and various infrastructure projects. His focus on making flood insurance affordable is appreciated by homeowners throughout the region. We look forward to continuing our work with the Senator to create jobs and lure businesses to Jefferson Parish."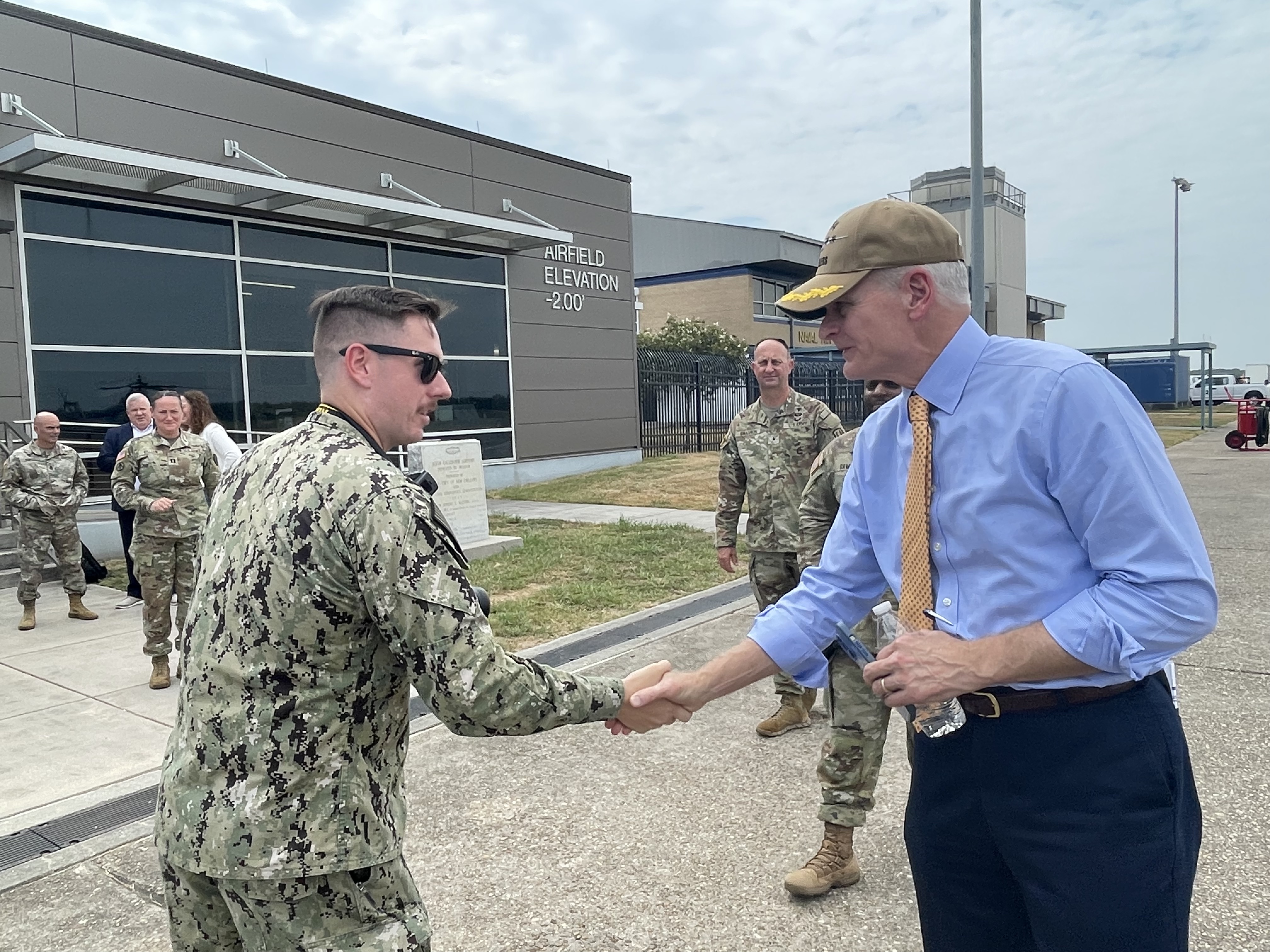 Later, Cassidy visited Naval Air Station Joint Reserve Base (NAS JRB) New Orleans, a joint military unit which is home to 8,500 service members and dependents, and 1,800 federal civilians. The base is primarily home to the Navy Strike Fighter Composite Squadron 204 (VFC-204), the "River Rattlers," which is one of four Naval Air Force Reserve fighter squadrons. NAS JRB New Orleans is also home to a Coast Guard Air Station that is the busiest helicopter search and rescue station in the country, as well as U.S. Army, Marine Corps and Louisiana Air National Guard personnel.
"The men and women here prepare to defend America in wartime, and help victims of natural disasters in peacetime," said Dr. Cassidy. "They deserve the best we can provide in health care, education and security, as well as support for their missions. This will remain one of my priorities in DC"
As part of the Fiscal Year 2024 National Defense Authorization Act (NDAA), Cassidy secured over $6.4 million to pay for distribution switchgear to support the base's operations. The NDAA also secured a 5.2% pay raise for military service members.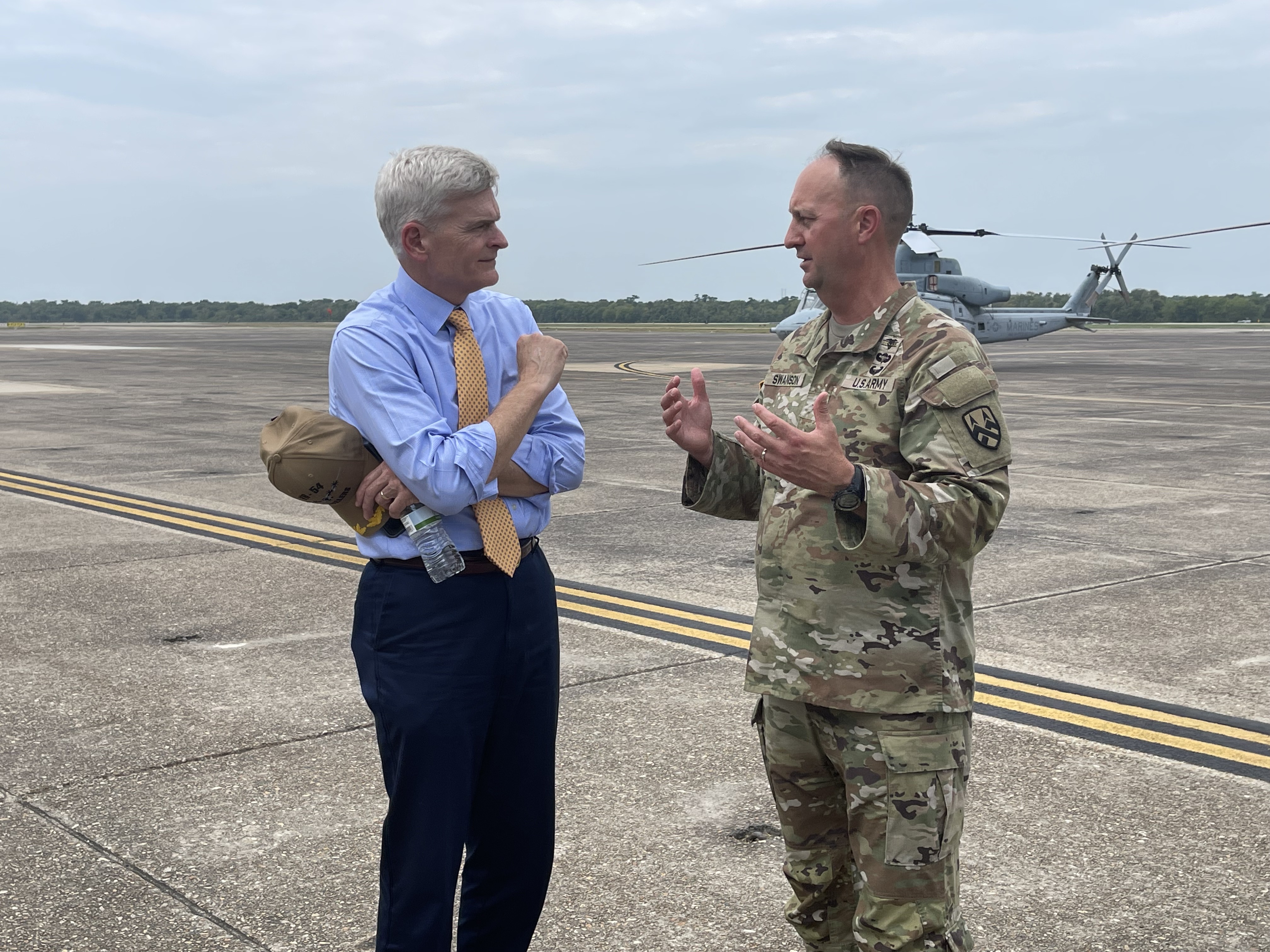 While on base, Cassidy examined aircraft that was recently moved to the base, and met with Captain Lena Kaman, Commanding Officer of NAS JRB New Orleans, and her team.
"NAS JRB New Orleans was pleased to host Senator Cassidy and members of his staff," said Captain Kaman. "The face-to-face discussions allow a more concrete exchange of information and gives us the opportunity to show the Senator our many successes, our ongoing projects and a firsthand view of our vision for the future. I am especially pleased he was able to hear from leadership not only from my staff but also from other major commands."
###