METAIRIE – Today, U.S. Senator Bill Cassidy, M.D. (R-LA) visited the Veterans Services office at the University of New Orleans to speak with veterans who attend school there. He spoke with them about VA healthcare and housing benefits, as well as educational benefits available to them.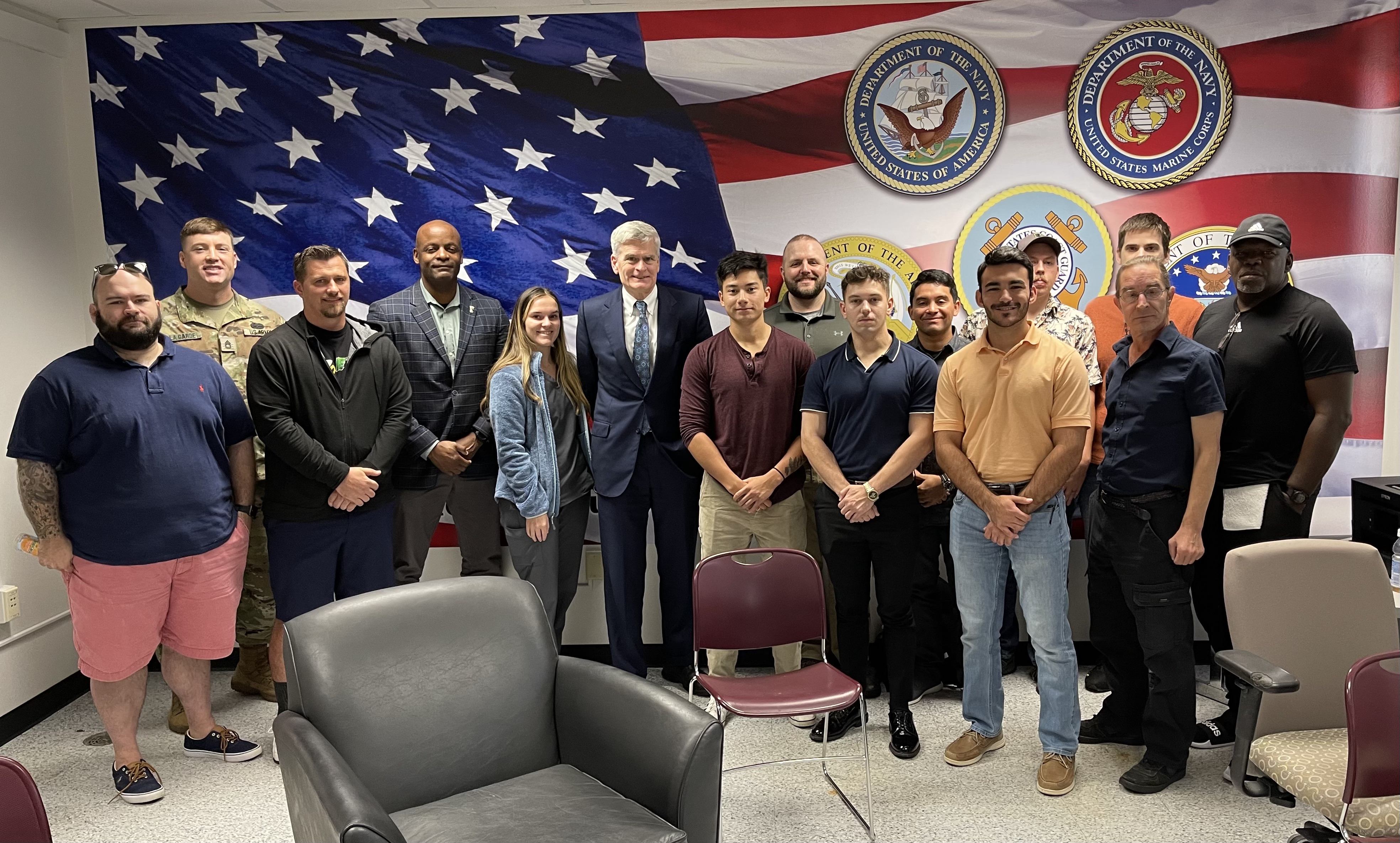 "Productive meeting with veterans pursuing their education at UNO studying everything from history, Spanish language, naval architecture, and health sciences," said Dr. Cassidy. "Most importantly, they shared their experience with the VA system."
Congress recently passed into law Cassidy's Solid Start Act, which requires the VA to contact veterans at least three times during their first year of separation from service, to inform them about the benefits they can receive. He is also leading a bi-partisan bill called the INFORM VETS Act, which provides eligible veterans annually with information about vocational programs they're entitled to.
Additionally, Cassidy voted for the PACT Act, which expands benefits to post-9/11 veterans who were exposed to burn pits during their service.
Cassidy was welcomed to the University of New Orleans by Dr. John Nicklow, President of the university.
"Our veteran students are a valued part of our diverse student body," said President Nicklow. "We appreciate Sen. Cassidy's desire to learn first-hand about their experiences and concerns. I know they appreciated his visit."
Later, Cassidy visited the New Orleans Baptist Theological Seminary (NOBTS), where he met with their President and his leadership team. They discussed how to ensure their students can use federal financial aid to attend the seminary. They also discussed how to protect religious liberty.
"This seminary is a blessing to New Orleans, and the wider region," said Dr. Cassidy. "Their work to spread the gospel will make our communities better places to live."
In addition to his support for religious schools, Cassidy pressed Yale Law School in 2019 on its "anti-discrimination policy" that prevented students from receiving school funding to work at religiously-affiliated institutions. He also introduced legislation with Senator Tim Scott to ban discrimination against child welfare providers based on their religious views.
Dr. Jamie Dew, President of the New Orleans Baptist Theological Seminary, thanked Senator Cassidy for his attention to their concerns.
"I appreciate Senator Cassidy stopping by NOBTS and Leavell College today to discuss a range of topics including the future of private religious institutions like ours, the work of our students in New Orleans and around the world, and local issues like increased crime in New Orleans. I appreciate a busy elected official taking this much time out of his schedule today," said Dr. Dew.
###