BATON ROUGE – Today in Lafayette, U.S. Senator Bill Cassidy, M.D. (R-LA) spoke to the Rotary Club of Lafayette, where he spoke about the benefits of the Infrastructure Investment and Jobs Act (IIJA), including funds for flood mitigation and strengthening electrical grids. There's also money available for Louisiana's energy industry to capture and sequester carbon.
"There's going to prosperity in south Louisiana and throughout Louisiana because of the private investment being triggered by public investment in this region. There will also be dollars available to complete I-49 South," said Dr. Cassidy.
The IIJA includes the SCALE Act, a $5.1 billion dollar allocation which invests in carbon capture, utilization and storage (CCUS) technology. Another $8 billion is available for hydrogen hubs, $3.5 billion for direct air capture hubs, and $9.04 billion for demonstration projects that support the development of key energy technologies, including carbon capture. In July of 2021, before the IIJA passed, the University of Louisiana at Lafayette (ULL) received $1 million in grant funding from the U.S. Department of Energy to advance clean hydrogen technologies, an example of the demonstration projects that the IIJA supports.
Since the IIJA took effect, Cassidy announced that Project Cypress in southwest Louisiana will receive a total of $500 to $600 million to develop a Direct Air Capture hub—the largest award in the whole country from the infrastructure law. Once completed, it will capture more than one million tons of CO2 from the atmosphere annually, and sequester it underground. Another project to store carbon in Allen Parish was announced in May, and two demonstration projects were announced as well.
Additionally on Tuesday, Lafayette Parish was granted $4.48 million to mitigate 18 properties from flooding, through structural elevation and the acquisition and demolition of qualified properties. The IIJA included $3.5 billion in flood mitigation assistance grants and $1 billion in Building Resilient Infrastructures and Communities (BRIC) grants. Additionally, $14.9 million was granted to the Lafayette Regional Airport last September to reconstruct their taxiway. Finally, in the last two months, Cassidy has secured non-IIJA appropriations to upgrade outmoded water replacement lines in Lafayette Parish, realign a taxiway at the Lafayette Regional Airport, and support the Bio-Medical Innovation Center at ULL.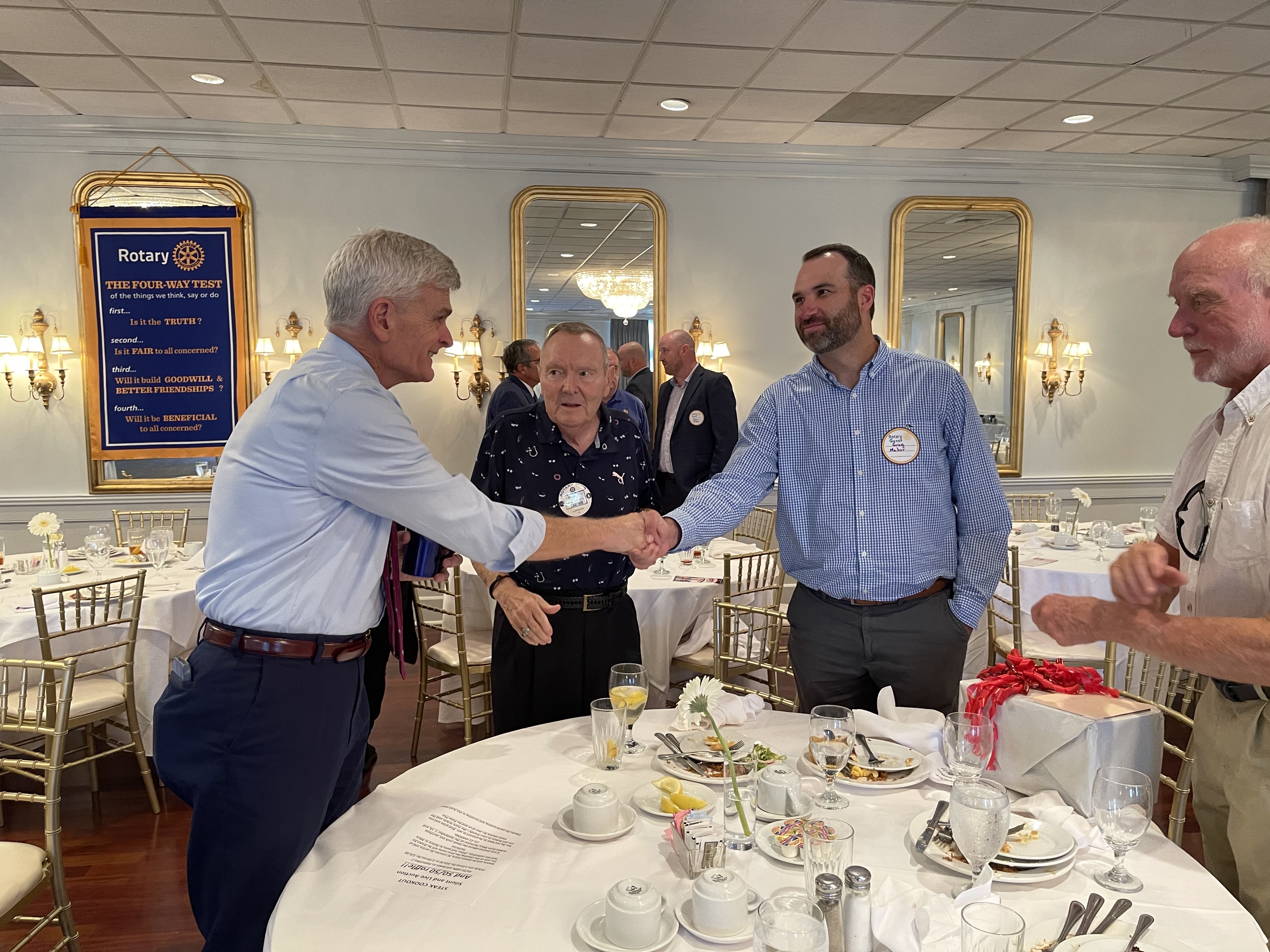 While there, Cassidy was welcomed by Ms. Kay Theunissen, President of the Rotary Club of Lafayette.
"As an organization that serves Lafayette, we appreciate Senator Cassidy's service to our area. His infrastructure bill will make us safer from flooding and create new jobs for the energy industry, and his efforts to reform flood insurance are invaluable for us and our neighbors. We appreciate his leadership," said Ms. Theunissen. 
Later, Cassidy visited South Louisiana Community College's (SLCC) Ardoin Campus. He toured their HVAC and machine tool programs. He also praised students for getting an education, while offering his support for them.
"These kids are preparing a better future for themselves, our communities, our state and our nation," said Dr. Cassidy. "As they improve themselves, they help us all. And SLCC's programs are doing great work."
Cassidy has been an advocate for SLCC and for community colleges across the state. Recently, he secured a $420,000 grant for SLCC to expand their welding, maritime structural fitter and machine tool program cohort to five campuses across Acadiana. Last February, he also announced a $100,000 grant from the Delta Regional Authority for Fletcher Technical Community College to develop a Commercial Vehicle Operations Mobile Lab Simulator to train their workforce at a faster and updated pace.
Cassidy was led on the tour by Dr. Vincent June, Chancellor of South Louisiana Community College.
"We are honored to welcome Senator Cassidy to our Lafayette campus to highlight our region's short-term workforce training programs that put local residents to work quickly in high-wage, high-demand jobs," said Dr. June.
###